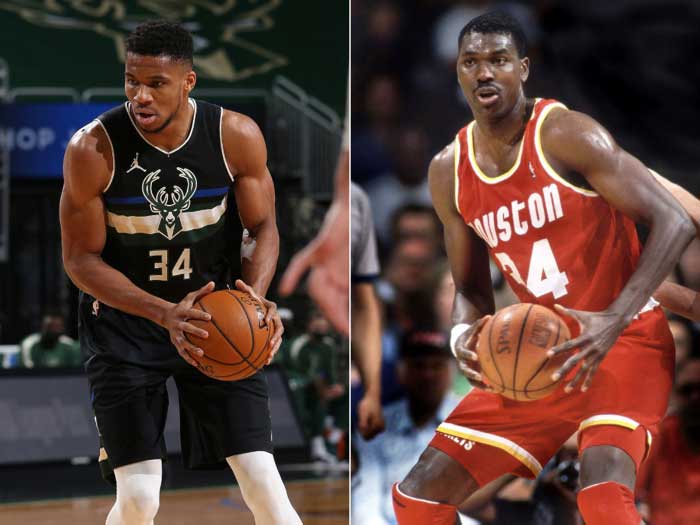 By Leobert Julian A. de la Peña
The Greek Freak X The Dream tandem? Man, it's scary hours once again for all the NBA stars.
Giannis Antetokounmpo's strive for greatness isn't done and he remained hungry for more NBA championship titles after revealing his ultimate off-season workout plan during the "48 minutes" podcast uploaded on YouTube last September 13, 2023.
In an interview with the 48 Minutes team, the Milwaukee Bucks franchise player confirmed that he will be flying to Houston and meet up with an NBA Hall of Famer, Hakeem "The Dream" Olajuwon, for a special workout.
"This season before the training camp, I have a trip, I will go down to Houston and try to workout with Hakeem Olajuwon so it's crazy," Antetokounmpo said.
Olajuwon is considered as one of the greatest big men to ever set foot in the NBA and is a two-time champion playing for the Houston Rockets.
Known for his impeccable court discipline and unmatched footwork for his size, Olajuwon became the standard of the NBA's post-up players before the three-point era dominated the league.
From 1993-1995, Olajuwon reached his peak years and won the Most Valuable Player (MVP) trophy while also helping the Rockets win the title.
Antetokounmpo has been undergoing a daily grind this off-season after receiving the medical clearance to resume on-court activities after surgery on his knee last July.
It was during the 2020-2021 NBA season when Antetokounmpo led Milwaukee to its first-ever NBA Finals title.
However, the next two years became painful for the Bucks when they failed to reach the finals for two straight post-seasons.
They failed to defend their championship title during the 2021-2022 season when they lost to the Boston Celtics in the Eastern Conference semifinals and suffered worse the following year when they received elimination in the first round at the hands of Jimmy Butler and the Miami Heat.
Will Antetokounmpo and the Bucks activate redemption season and return to the NBA finals?