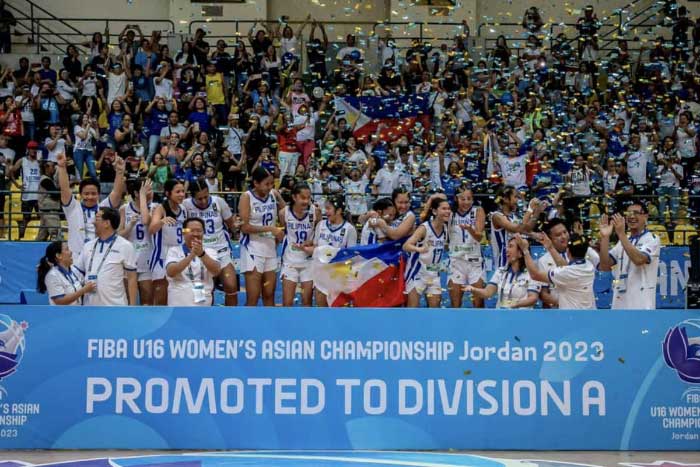 By Leobert Julian A. de la Peña
All the sweat, tears, and hard work finally paid off for the Gilas Women's Under-16 national team after earning a promotion to the Division A of the FIBA Women's Asian Championship.
In order to do such a hard task to achieve, the brave and talented Filipina cagers had to sweep the Division B and put the cherry on top after taking down Iran in the finals, 83-60, last July 17, 2023, held at the Prince Hamzah Sport Hall in Amman, Jordan.
Before outdueling the powerhouse Iran squad, the Gilas girls had to move past Malaysia in the semifinal round.
The young Pinays never looked back against the Malaysians and sustained its waxing hot preliminary round performance, crushing them in the bright lights of the FIBA stage, 79-44.
It was another masterful clinic for Gilas in the Division B finals against Iran when they edged them on both ends of the floor for four-straight quarters.
Just like their dominant outing against the Maldives, Gilas used another offensive snowball in the second half to fully retake the momentum of the game.
Gilas sucked the life out of Iran after an 11-0 run in the final frame of the fourth, extending its advantage to 74-51.
Despite Iran's drained three-pointers in the next two minutes in an attempt to claw their way back into the ball game, Gilas responded with their own scoring attack and officially fended them off with only two minutes remaining in the Division B finals.
Nevaeh Smith saved the best for last and led Gilas with 21 points built from five made treys and several hard drives to the basket.
It was Smith who sparked Gilas' offensive barrage in the first quarter after swishing in an attempt from the elbow followed by an explosion from Ava Fajardo.
Fajardo, Gilas' consistent winner of the Player of the Game honors, contributed 12 points and nine assists while Ariel De La O added a double-double of 10 points and 10 rebounds.