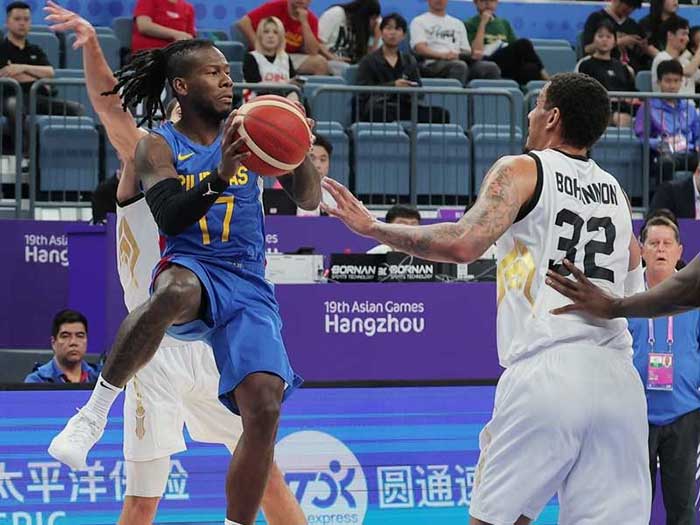 By Leobert Julian A. de la Peña
The Gilas Pilipinas men's national basketball team suffered their first loss in the ongoing Asian Games after falling at the hands of Jordan, 87-62, last September 30, 2023, held in Hangzhou, China.
Despite a strong start anchored by an aggressive Justin Brownlee in the first quarter, the Jordanians flipped the switch in the remaining six minutes of the second frame and banked on their hot-shooting from the three-point area and the perimeter.
The locals did damage in the first half for Jordan, burying every wide-open three-point shot they hoisted before naturalized player Rondae Hollis-Jefferson took over in the second half.
From an early lead after the opening period, Jordan held Gilas to a scoreless four-minute stretch in the second quarter that opened up a 30-19 lead.
Just when Jordan thought they could sustain their hot-shooting, the Tim Cone-led Gilas squad finally countered with an answer at the start of the second half and adjusted their defensive schemes that limited the opposition's outside game.
With 3:13 remaining in the third, Gilas looked to steal away Jordan's momentum when they completed their comeback, equalizing the game at 48-all after a Japeth Aguilar basket down the block.
Gilas went toe-to-toe with Jordan in the next several sequences and tied the game again at 52-all when CJ Perez soared for a deuce.
However, Gilas was once again drowned by their lack of defensive communication in the first two minutes of the fourth, allowing Jordan to drain three-pointers that saw their deficit go back to double digits.
From there, Gilas looked gassed and never cut their deficit to single digits in the next eight minutes of the final frame.
Hollis-Jefferson led the way for Jordan after putting up an all-around performance of 23 points, six rebounds, nine assists, two steals, and two blocks.
Meanwhile, Brownlee top-scored for the PHL national team with 24 markers but was not enough to help them chip away Jordan's lead in the final 10 minutes of the ball game.
The loss will be relegating Gilas to a knockout match against Qatar to determine if they will be advancing to the tournament quarterfinals.