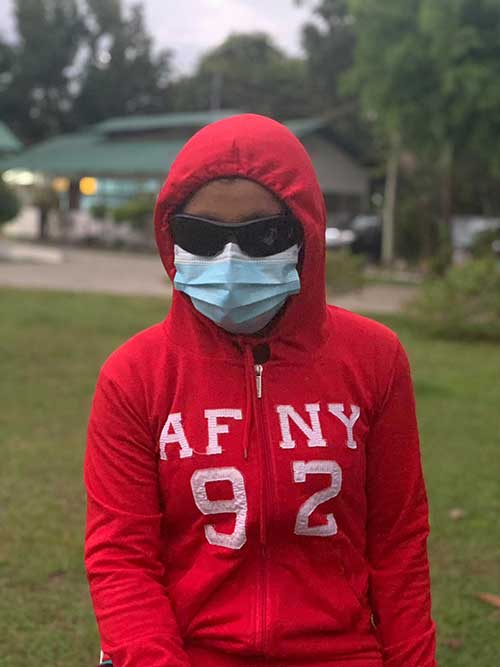 By Jennifer P. Rendon
Just like other children of farmers, Nene (real name withheld) had dreams of lifting her family out of poverty.
And the only way that the 16-year-old had in mind was to finish her school. She said she wanted to become a soldier, preferably with the Philippine Army.
Ironically, Nene ended up being part of another "Army" as a member of the New People's Army.
Nene, a Grade 9 student from a town in southern Iloilo, said she was lured into joining the group after the group promised to send her to school.
Without the knowledge of her parents, she trudged the mountains of Panay's southern portion sometime in November 2020.
At that time of her recruitment, there was also another girl, slightly older than her, who was also lured into joining the movement.
"Gusto ko gid mag-eskwela bay. Ti hambal nanda, pa-eskwelahon nanda ako. Tapos nagpakita man sanda kang proof," Nene said but did not go into the details about the "proof" shown to her.
She later learned that apart from them, there were other girls and women who have recently joined the group.
"Mga sobra pa pulo. Ako guro pinakabata kananda," she said.
Initially, Nene said they were tasked to do menial jobs – from cooking to fetching water.
Soon, they were indoctrinated into the armed movement and were trained to hold and fire guns.
But weeks into the group, Nene admitted that it was nothing she ever imagined. In fact, it was far from what she hoped for.
"Kapoy magpanaw sa bukid. Kung kis-a, magutman pa kami," she said.
Nene said she survived not being able to eat for two days.
During ordinary days, they had limited supply of rice and 'ubad nga saging' as viand. They also had to content themselves with canned sardines.
Her comrades had also asked for food – rice, kamote, and eggs – from residents in upland barangays.
Nene said she endured it all – hunger, hardships, lack of sleep, and those that come in between.
But the last straw came after a male NPA member made sexual advances at her.
"Ginhurikap na ko sang dyan ako nagapahuway sa duyan," she said.
Engulfed by fear, Nene said she had kept her verbal protests to herself.
"May pusil bay sya," she only said to justify her silence.
In the end, she said she could only cry in her sleep about what happened.
The sexual advancements didn't stop and Nene feared that she might get raped if she doesn't flee.
"Nahadlok ko nga ma rape ko amo ran nalagyo ko," she said.
Before her, another female companion was also able to flee, she said.
Nene ended up with members of the Philippine Army's 61st Infantry Battalion based in Camp Monteclaro in Miag-ao, Iloilo on March 16.
'LIES AND TRUTH'
And what's life being held "captive" by the soldiers?
"Mayad man pag-amuma nanda kanakon gya. Rayo gid katama sa hambal kang NPA nga sakiton kuno or i-torture kaw kang Army kung madakpan ka nanda," she said.
Female soldiers who accompanied Nene claimed she showed deep trauma.
She still cries suddenly. She won't talk when asked but would be her usually teenage self spontaneously sharing her likes and experiences.
Nene was also asked about finally being able to eat good food at the right time.
"Butigon gali ang NPA," she said.
When asked if she still wants to be a soldier, she pointed to a female Army member and said, "gusto ko magpareho kananda. Gusto ko gid magbalos sa mga NPA."
She also revealed that nine of her female comrades have been impregnated while in the movement.
"Indi ko gusto magpareho kananda," she said.
Nene claimed that she was made to believe that soldiers were using drugs and selling shabu.
But it appeared, though, that it's some members of the NPA who were into marijuana use.
NOTHING NEW
Colonel Joel Benedict Batara, 61st IB commander, said he is not surprised by Nene's story about alleged sexual molestation within the NPA ranks.
Claiming that the rebels are god-less and have no morals, "they prey on their own female comrades, some are even minors, for sexual satisfaction and other forms of exploitation. They continue to destroy the moral fabric of the society and future of our youth," he said.
Reports of NPA officers and members sexually abusing female members of the communist insurgency group have been going for some time already.
Late last year, Lady Desiree Miranda, who identified herself as the former chairperson of Anakbayan Central Luzon, claimed she was raped thrice before leaving the NPA group.
She was 19 when the first sexual abuse happened.
Miranda said she got depressed about what happened and was even accused of suffering from a mental disorder.
Meanwhile, Batara called on parents to watch over their children and instill in them utmost awareness on the deceptive recruitment scheme of the communist network group.
Presently, Nene is under the care and guidance of the 61st IB, the PNP and the Municipal Social Welfare and Development Office for her security and psychosocial debriefing.