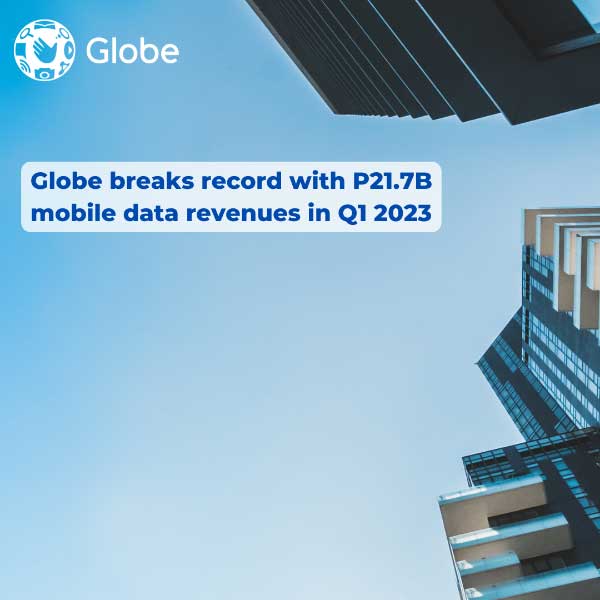 Mobile leader Globe posted a record high P21.7 billion in mobile data revenues for the first three months of the year, a 4% increase from the P20.8 billion posted in 2022. Mobile data traffic also soared to 1,352 petabytes, surpassing the 1,058 petabytes reported in the preceding year.
The achievement was largely driven by increasing mobile data habituation levels among its subscriber base, with mobile data now accounting for 80% of mobile revenues, up from 78% a year earlier. On the other hand, traditional mobile voice and SMS revenues ended at P3.4 billion and P2 billion, lower year-on-year by 12% and 7%, respectively.
"Mobile data services sustained its growth momentum, and we are pleased to report that our deliberate monetization efforts and base management initiatives continued to bear fruit," said Darius Delgado, Head of Globe Consumer Mobile Business.
To ensure that its customers experience a #1stWorldNetwork, Globe continues to invest significantly in its infrastructure. In the first three months of 2023, Globe's capital expenditures amounted to P17.6 billion. The bulk of this amount, or 90%, was allotted for data requirements as a testament to its commitment to providing quality services to its customers.
"Our investments in this space have been vital to our continued growth and success in providing the best possible services to our customers. We are committed to enabling the digital lives of Filipinos by giving them access to vital services such as quality health care, education, financial services, and  livelihood opportunities," said Rebecca Eclipse, Globe Chief Customer Experience Officer and Head of Strategy Management.
In the first quarter of 2023, Globe built 220 new cell sites and upgraded over 3,000 mobile sites to LTE, which remains to be the primary technology to deliver mobile data services. These efforts allow Globe to keep pace with the people's dynamic and evolving connectivity needs.