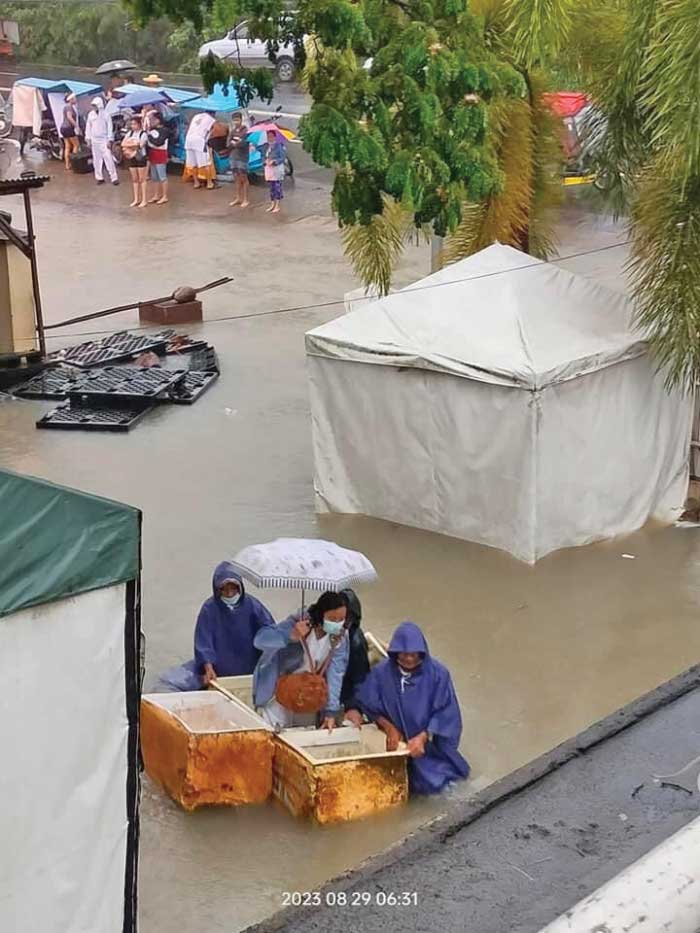 By Glazyl Y. Masculino
BACOLOD City – A total of 43,733 residents were evacuated while 30 houses were damaged here and in Negros Occidental due to flooding and strong winds brought by enhanced southwest monsoon due to Typhoon "Goring."
Based on the data released by the Provincial Disaster Management Division, as of 11 a.m. yesterday, 10,973 families or 36,068 persons from 86 barangays in 12 local government units (LGUs) were affected by the typhoon in the province.
There were 2,065 families or 7,024 individuals inside evacuation centers, while 1,950 families or 5,978 persons were outside evacuation centers, meaning they sought shelter with relatives or somewhere else.
Landslide incidents were reported in two LGUs, particularly in Barangay Ilijan, Bago City, and Barangay Kumaliskis, Don Salvador Benedicto. Clearing operations are ongoing.
Roads from Pontevedra town going to La Carlota City and La Castellana town are still not passable, as of 9:20 a.m. yesterday.
A bridge in Barangay RSB, La Carlota City is also not passable.
A total of 26 LGUs ordered the cancellation of classes, and 14 LGUs suspended the work in government offices yesterday.
Of the affected houses, nine were destroyed while 21 others were partially damaged.
No hospital admission
Flooding prompted the Bago City Hospital to temporarily stop accepting new patients since Monday, August 28, as flood water continued to rise, affecting the hospital grounds.
In a Facebook post as of 6 a.m. on Tuesday, August 29, the hospital announced that there's still no consultation and admission of patients.
They also stopped accepting patients for the outpatient department, emergency cases, X-ray, and laboratory.
Some of the patients were transferred to the second floor due to flooding.
An improvised floating device is being used for hospital workers to cross the flood water into the hospital in Barangay Balingasag.
There has been no announcement yet as to the resumption of the admission of patients and other services of the hospital, as of this posting.
Other parts of Bago City that experienced flooding were Barangays Sampinit, Calumangan, and Lag-asan.
Meanwhile, in Bacolod, the number of residents affected by flooding increased since Monday night.
According to a report from the City Disaster Risk Reduction and Management Office (CDRRMO), 2,250 families composed of 7,665 individuals were evacuated, as of 8 a.m. yesterday.
Barangay Singcang-Airport has the most number of evacuees with 581 families or 2,214 individuals, followed by Barangay Sum-ag with 468 families or 1,867 persons, and Barangay Pahanocoy with 283 families or 933 persons.
The city government extended the suspension of classes in all levels here until August 30, due to inclement weather.
An unscheduled power interruption also affected the towns of Manapla and E.B. Magalona, and Victorias City, under the Northern Negros Electric Cooperative (Noneco) since Monday night.
Based on the Facebook post of Noneco, the cause of the power outage was the tripping of the power transformer.
The power firm said that it is currently conducting preventive measures before re-energization.