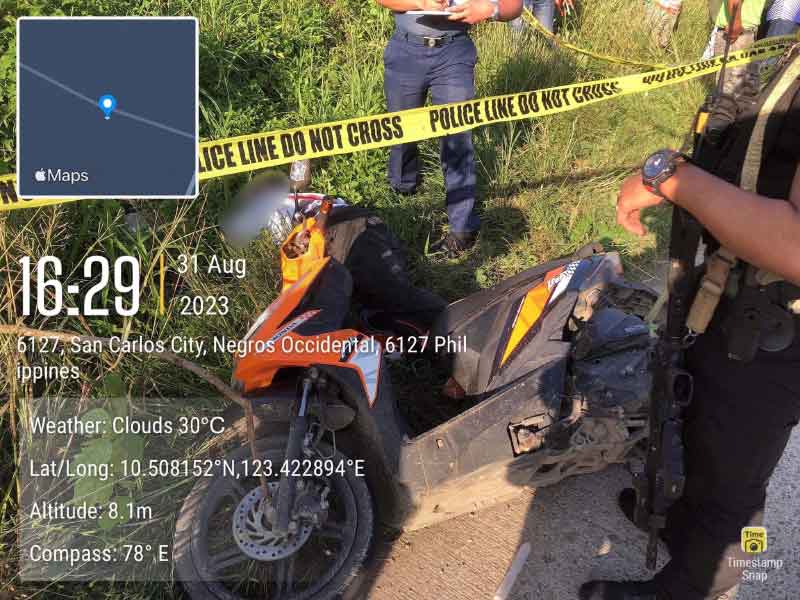 By Glazyl Y. Masculino
BACOLOD City – Police are looking into debt as a possible motive behind the killing of a government employee on Vasconia Road, Barangay Palampas, San Carlos City, Negros Occidental last Thursday.
Police Major Ryan Villasario, deputy chief of San Carlos City Police Station, identified the victim as Antonio Abuyo, 63, of the said village, who was assigned to the General Services Division.
Villasario said the victim was riding his motorcycle on his way home when he was waylaid by an unidentified person and shot in the back and head.
The gunman fled on board a motorcycle with an unidentified companion, while the victim was declared dead at a hospital.
Police recovered from the scene a fired cartridge and a live ammunition of .45 caliber pistol.
Villasario said the victim's child told the police that his father had opened up about his problem with finances, as he had to pay a debt. However, the victim did not reveal more details about it to his child.
He said that policemen are exploring other possible angles.
Meanwhile, in Moises Padilla town, 22-year-old Manuel Tobias of Barangay Montilla died after he was stabbed by a family of five outside his house in the said village.
Police Major Jovito Bose, town police chief, said that Tobias and the Niepes family figured in a heated argument at a videoke bar before they went home.
However, the Niepes family reportedly followed the victim and called out the latter to go out of his house. When the victim went out of his house, a commotion then ensued between them leading to a stabbing incident.
Bose said that Tobias suffered multiple stab wounds and was declared dead in a hospital.
Two of the five suspects identified as Alberto Niepes, 50, and his son Ronel, 31 were arrested in a hospital after they also got wounded in the commotion. Niepes's three sons are still at large, according to Bose.
Bose said that grudges and drunkenness triggered the incident.