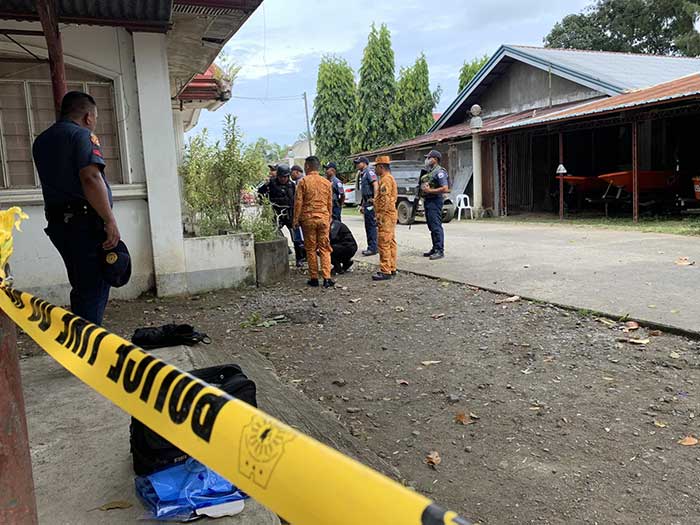 By Jennifer P. Rendon
The glass window of the Dingle Municipal Library was shattered while the back rear tire of the Bureau of Fire Protection-Dingle Substation was damaged after a grenade exploded on Oct. 3.
Captain Aileen Lacrite, Dingle police chief, said no one was injured as the library was unoccupied while the two on-duty BFP personnel were inside the station.
Lacrite said the explosion site was around 50 meters from the police station.
At that time, she claimed they had just arrived from conducting checkpoint operations.
Recovered from the crime scene were a hand grenade safety pull lock ring, a safety lever, and several parts of the M-26 Fragmentation grenade.
At the onset of the investigation, Lacrite hinted that they already have persons of interest behind the incident.
She later admitted that the two persons of interest are members of the Philippine Army.
Lacrite did not name names but one of them holds the rank of a Private First Class (PFC) while the other is a Staff Sergeant.
The 25-year-old PFC from Negros Occidental and the 41-year-old Staff Sergeant are assigned to the 6th Forward Service Support Unit (FSSU) based in Camp Hernandez, Dingle.
Lacrite said they have closed circuit television (CCTV) footage and testimonies of witnesses attesting that the two soldiers were riding a Honda XR150 motorcycle.
It was driven by the PFC with the Staff Sergeant as his back rider.
Lacrite said she could not go into details but it appeared that the incident stemmed from the local police's aggressive campaign on traffic laws and ordinances.
She also noted that the suspects appeared to have no intention to harm but to just threaten or send a strong warning.
Yesterday morning, Colonel Ronaldo Palomo, Iloilo police chief, coordinated with Brigadier General Michael Samson, 301st Infantry Brigade, about the incident.
Samson, noting that the soldiers were not under his command, assured that he would try to reach out to the soldiers and urge them to turn themselves in.