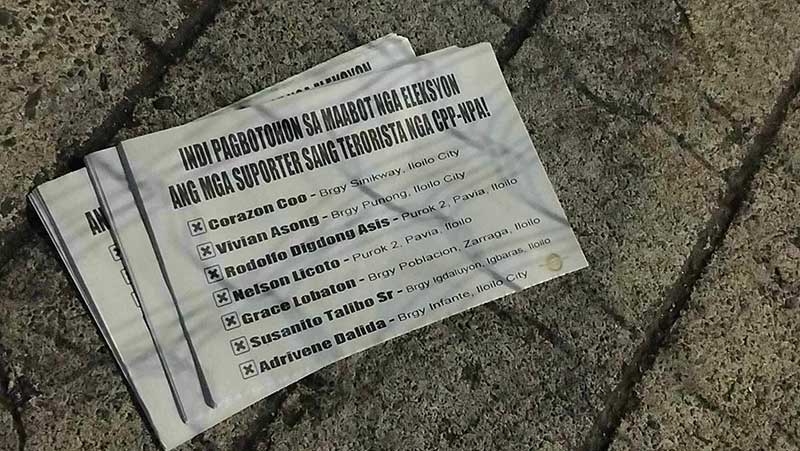 By Rjay Zuriaga Castor
Bagong Alyansang Makabayan-Panay (Bayan-Panay) strongly condemned the baseless accusations and red-tagging of its members who are running for the Barangay and Sangguniang Kabataan Elections (BSKE) in Iloilo.
Just days after the start of the official campaign period for BSKE on October 19, leaflets and posters surfaced in the city, linking seven candidates to the Communist Party of the Philippines–New People's Army (CPP-NPA). The particular leaflet remarked: "Indi pagbotohon sa maabot nga eleksyon ang mga suporter sang terorista nga CPP-NPA!"
The candidates targeted by these allegations are incumbent barangay chairpersons Corazon Coo of Sinikway, Lapuz, and Susanito Talibo of Igdaluyon, Igbaras. The tagged candidates also include incumbent kagawads Mary Adrivene Dalida of Bita Sur, Oton, and Mary Grace Lobaton of Poblacion Ilaya, Zarraga.
Also identified are barangay kagawad candidates Vivian Asong of Punong, Iloilo City, and Nelson Licoto and Rodolfo Asis from Purok 2, Pavia.
It can be noted that the particular leaflet wrongly identified Dalida as a candidate for a barangay post in Infante, Iloilo City.
Bayan-Panay said the individuals named have previously been red-tagged, harassed, and threatened with criminal charges.
"Mabaskog nga ginakundena sg Bayan Panay ang panibag-o nga redtagging nga wala sang liwan nga may kahimuan kundi ang mga ahente sangg estado," said Bayan-Panay in a statement in a statement on Thursday, October 26.
Bayan-Panay said the red-tagging of candidates for the BSKE constitutes an attack on a peaceful and orderly election process.
"Pagbayolar ini sa demokratiko nga proseso nga dapat hilway ang publiko sa ano man nga mga atake kag mismo sa kasiguruhan sang mga kandidato nga nagapadalagan," it added.
The progressive group further challenged those responsible for the dissemination of the flyers to prove their accusations and also called on the public to take a stand and condemn the red tagging, which endangers the lives of its victims.
Bayan-Panay also urged the Commission on Elections and the Commission on Human Rights to investigate the incidents and ensure that the security and rights of the red-tagged candidates are protected.
Dalida said the surfacing of the leaflets is a form of harassment and intimidation towards their supporters.
"Indi manami […] Porma ini siya snag harassment, porma indi siya sang pamahog nga ang mga tawo nga supporter ko, gina dismaya ang mga pumuluyo nga imbes tani nga naga expect ikaw nga magdaog kag makaserbisyo, gina patalang pa ang mga pumulyo," Dalida told Daily Guardian.
Amidst this, the incumbent kagawad stressed that the candidates named should not be divided or fearful, but should be united to expose the people behind the accusations.
The 3rd Infantry Division (ID) of the Philippine Army has stated that they are not involved in the distribution of the leaflets and stressed that they abstain from participating in partisan politics.
"No soldier, much an Army unit, will initiate such [a] "smear campaign" in order to associate or discredit a political aspirant or any individual for that matter as [a] supporter of the Communist Terrorist Group, especially now that we are winning the fight against local communist armed conflict," the 3rd ID said in a statement.
It further condemned the red-tagging, noting that "it does not only violate election laws but creates animosity and societal divide."