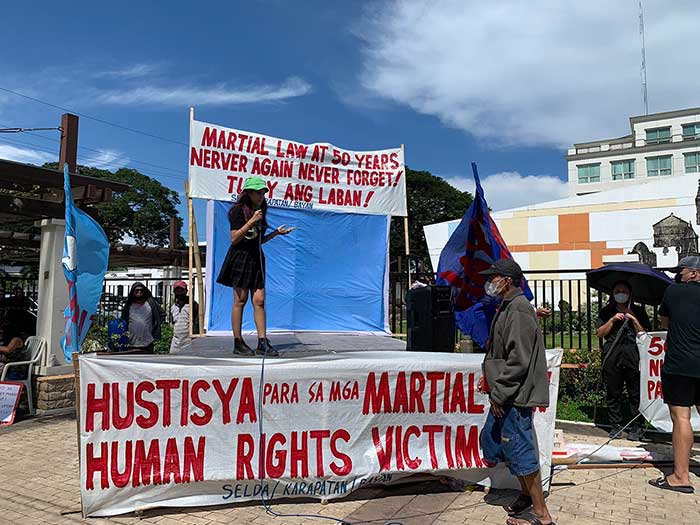 By Rjay Castor
Progressive groups led by Bagong Alyansang Makabayan (Bayan), students from different universities, and Martial Law survivors in Iloilo will be staging a protest on September 21 to commemorate the 51st anniversary of the declaration of martial law.
The protest will take place at 2 p.m. in front of the Iloilo Provincial Capitol, with hundreds of participants expected to attend.
Bayan confirmed to Daily Guardian that there will be no march compared to the previous commemorations since the legal office of the Iloilo City government did not grant a rally permit, citing concerns about potential traffic disruptions.
It can be recalled that the city legal office also denied the progressive groups a rally permit during the second State of the Nation Address of President Ferdinand Marcos Jr., namesake and son of the late dictator Ferdinand Marcos Sr.
Meanwhile, Anakabayan-West Visayas State University said that the current Marcos administration is desperate to rewrite and distort history and the promised change remains elusive.
"Sa isang taong pamamahala ni Marcos Jr., ating nakikita na ang kanyang prayoridad ay ang linisin ang pangalan ng kanilang pamilya at ipagpatuloy ang paglaganap ng pasismo," it said.
The Department of Education, under Vice President Sara Duterte, has recently ordered changes in the Grade 6 Araling Panlipunan curriculum related to the martial law years, altering it from "Diktadurang Marcos" (Marcos dictatorship) to simply "Diktadura" (Dictatorship).
"Sa ating pagunita ng anibersaryo ng Batas Militar, huwag rin nating kalimutan ang mga bayani at martyr na inalay ang buhay para sa demokrasya at kalayaan sa pamamagitan ng pagpatuloy ng laban na kanilang sinumulan," the group added.
Iloilo Governor Arthur Defensor Jr., in a press conference on Wednesday, stressed the significance of remembering the past.
"It's good to remember it because those who [cannot] remember the past are condemned to repeat it. It's part of our history," he said.
Defensor, however, noted that the provincial government does not have any programs to commemorate Martial Law, similar to how they handle other historical events.
"We don't… Daw way man kita sina ga commemorate […] Halin sang una wala gid man sang commemorative event ang province. Like the others, damo man kita sang mga amo na nga historical date nga wala kita sang programa, even the EDSA revolution, once lang kita to naka programa," he explained.
Defensor was referring to the 36th anniversary of the 1986 People Power revolution, where he issued Executive Order No. 136 and the provincial government spearheaded a Freedom Rally at the capitol.
In August this year, Defensor took oath as a new member of Partido Federal ng Pilipinas, President Marcos' political party, which he described as a "more practical" move for the development of the province.
Iloilo City Mayor Jerry Treñas, who was an active student leader during Martial Law, recalled the dark period in the country's history marked by suffering and oppression.
"It was the worst display of abuse of power and authority. I personally experienced the atrocities under military rule being an active student leader of Ateneo then," he said.
Treñas, together with outgoing and incoming officers of the Ateneo's student council, was arrested in front of the University of Santo Tomas in España, Manila on April 9, 1978.
His detention comes after the city mayor, alongside his brother Francis, joined to protest the 1978 Interim Batasang Pambansa (IBP) election results — the first national elections held during the dictatorship of Ferdinand Marcos, with the majority of IBP seats being won by the late dictator's Kilusang Bagong Lipunan coalition.
Treñas further urged Filipinos to safeguard their hard-earned freedom and democracy, honoring the memory of those who fought and died during the martial law years.
"Let us cherish the kind of freedom and democracy we have now. Let us stand for what is right, help our country become much better, and let's not put to waste the lives and sacrifices of those who fought and died during the Martial Law era," he added.
This year's commemoration will be the second under President Marcos.
The elder Marcos publicly declared Martial Law on September 23, 1972, although the official document – Proclamation No. 1081, s. 1972 — was believed to have been signed on September 21.