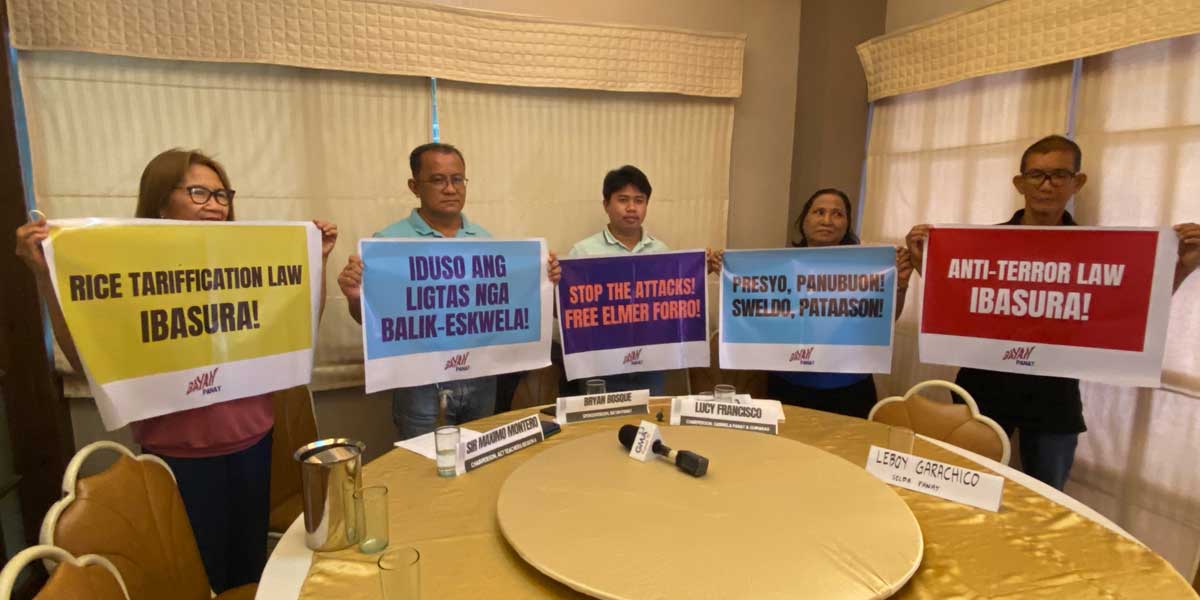 By Joseph B.A. Marzan
Progressive groups based in the city and province of Iloilo are set to hold a rally Monday, July 25, 2022 while President Ferdinand Marcos Jr. delivers his first State of the Nation Address (SONA).
Groups including the Alliance of Concerned Teachers (ACT) Region 6, Bagong Alyansang Makabayan (BAYAN) Panay, GABRIELA Panay, and the Samahan ng mga Ex-Detainee Laban sa Detensyon at Aresto (SELDA) Panay will hold day-long protest activities at City Proper to commemorate the first SONA under the new president.
BAYAN Panay will launch their 9-point 'People's Agenda' under a new Marcos administration during the same rally.
This agenda encompasses removing the excise tax on oil, greater subsidies for farmers and fisherfolk, land reform and national industrialization, upholding human rights, combatting disinformation, transparency in transactions, full subsidization of basic social services, a fully-independent foreign policy, and balanced and responsible utilization of natural resources.
BAYAN Panay spokesperson Bryan Bosque said that contrary to the disinformation spread on social media, they will support the Marcos Jr. administration on progressive policies.
He emphasized that they will give the new president wiggle room in the first 100 days to provide solutions on the most-pressing issues, which he stated should be favorable to the greater masses.
He added likewise that they will renew their calls for justice for detained BAYAN Panay Secretary-General Elmer Forro.
"In the first 100 days, [Marcos Jr.'s] actions as president will be scrutinized. The nine-point is led by the issue of the economic crises which hounds us all. Even if we have a very low expectation of [Marcos Jr.] to make favorable actions to solve the country's problems, we will give him small chance [for the first 100 days]. If he cannot do that, the people are ready to collect from his debt," Bosque said.
Lucy Francisco from GABRIELA Panay expounded on the rising costs of goods as well as the city government's own Local Public Transport Route Plan (LPTRP), which she said has greatly affected mothers and family members who manage their households.
"We want to show that the P450 minimum wage received by the breadwinner is not enough for daily survival because of their needs other than food. Mothers need additional subsidies to provide for their families' needs," she said.
ACT-Region 6 chairperson Maximo Montero said that they will also magnify on their 10-point 'education sector challenge' for Marcos Jr. and his Education Secretary, Vice President Sara Duterte.
The said challenge include doubling the education budget, fulfilling the requirements for the safe conduct of face-to-face classes nationwide, implementing evidence-based learning assessment, and providing sufficient and high-quality teaching and learning resources, among other issues which are relevant to learners, faculty, and administrative staff alike.
"[Marcos Jr.] did not give any clear platforms in case he wins during the 2022 election campaign period except for the call for unity. He should've made time to consult various sectors of the community who were affected by the COVID-19 pandemic in the past two years," Montero said.
"We want it to reach Malacañang Palace that this is not only a call from Metro Manila, but of a large sector of teachers across the Philippines," he added.
Martial Law survivor Leroy Garachico from SELDA Panay expressed that the rampant historical revisionism made them survivors feel like their human rights were being taken away from them again.
"When the [election] results came out, we felt cheated, we felt that there was supposed to be a moral victory over our dark years. Morally, we felt brought down because the ones who brought our struggle weren't just fellow victims but the whole country," Garachico said.
"When the Marcoses left the country we were congratulated by the whole world because of our victory in the People Power Revolution, but suddenly, not even half a century later, those who brought our dark years came back into the fold, which we couldn't believe but we have no choice but to accept," he added.
The groups will also attend a re-inauguration of the Martial Law monument at the newly-renovated Plaza Libertad, which commemorates the Ilonggo victims of the Marcos Sr. regime.