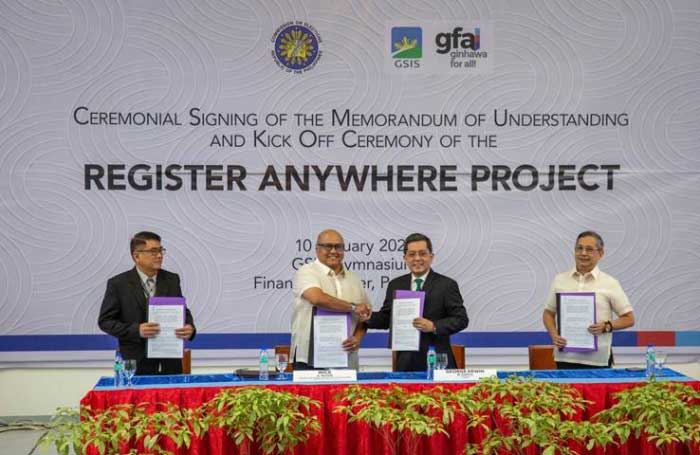 The head office of the Government Service Insurance System (GSIS) in Pasay is now one of the voters' registration sites for the pilot implementation of the Register Anywhere Project (RAP) of the Commission on Elections (COMELEC).
A memorandum of understanding on the designation of the GSIS head office as a registration site was signed by GSIS President and General Manager Wick Veloso and COMELEC Chairman George Erwin Garcia at the GSIS Gymnasium in Pasay where the RAP Team is now stationed.
The voters' registration in GSIS is ongoing at the GSIS Gymnasium in the GSIS Office in Pasay and will operate until January 13, and from January 16 to 20, from 8 a.m. to 5 p.m., for those who wish to register or transfer their voter registration anywhere in the Philippines.
"We fully support initiatives that make the services of the government convenient and accessible to our stakeholders. And RAP is definitely one of these worthwhile programs. We hope that through RAP, Filipinos who are not yet registered voters will take the first step to exercise their right to vote," Veloso said.
As part of its pilot implementation, COMELEC will offer two services under RAP, namely: first-time voter registration and transfer of registration, including transfers from overseas to local. COMELEC will also accept applications from qualified applicants who are present or temporary residents in a locality where the RAP site is situated and desire to be registered, or to transfer in another locality where they are permanent residents and intending to vote in the upcoming Barangay and Sangguniang Kabataan Elections in October 2023.
Applicants may walk in and submit their application form and photocopy of one (1) valid government-issued identification (ID) card upon presentation of the original ID; and have their biometrics taken at the GSIS Gym within the scheduled dates.
"We thank GSIS for being an avenue for COMELEC's RAP. We hope to achieve our objective of increasing the number of voters and avoid overcrowding at COMELEC offices for last-minute registrations. Applicants as young as 15 years old are encouraged to register and exercise their right to vote in the coming barangay and Sangguniang Kabataan elections," Garcia said.
For applicants residing in Pasay City District 1, applications for registration, transfer, reactivation, and correction of entries shall be received at the Office of the Election Office of Pasay City District 1 or at their satellite venues.