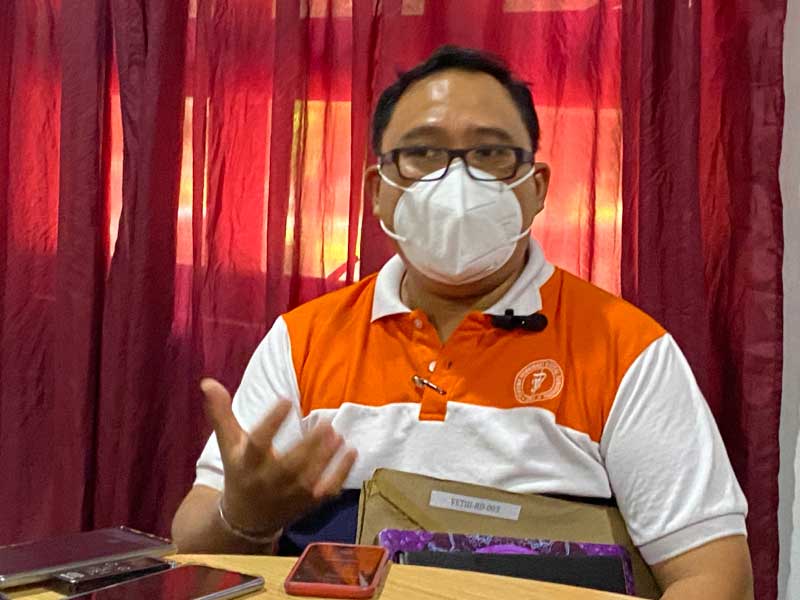 By Joseph Bernard A. Marzan
The Department of Agriculture-Western Visayas (DA-WV) on Tuesday said Guimaras might be the first province in Western Visayas to free itself from the infectious African Swine Fever, which continues to plague its neighbors.
Latest data as of June 26 indicated that Guimaras has sustained the least hog damage from ASF in the region, with only 376 heads depopulated valued at ₱3.675 million.
Guimaras suffered the lowest damage in terms of peso value, compared to the highest which is Capiz (₱428 million).
Hog population data as of April 1 indicated that the island province suffered minimal decrease with 23,686 heads, or 0.81 percent lower than the number of heads in April 2022 at 23,879.
As of July 14, 9 barangays and 3 towns (Buenavista, Jordan, and Nueva Valencia) reported ASF cases. The towns of Sibunag and San Lorenzo remain ASF-free.
But Dr. Jonic Natividad, DA-WV's regulatory division chief, said Guimaras' recovery might not happen soon, as they continue to receive reports of processed pork meat and other possibly-infected by-products entering the province.
Natividad said the Guimaras provincial government was eager to get to the recovery stage from ASF and is working with the regional office on blood samples and documentary requirements needed.
"[Guimaras] needs to be a 'Pink' or 'Yellow' zone [status for ASF], and that is what is indicated in the DA's [ASF] recovery program. But as of the moment, there are reported cases because chorizo and [other] processed meat, and [other] possibly infected meat products might be coming in," Natividad said.
"They have continued to submit blood samples last month, and fortunately [these yielded] negative results. But we have received reports, to be honest to the public, and we are monitoring that, since ASF is not the only hog disease. We also have to protect and inform our raisers," he added.
Local government units (LGUs) may improve from Red (Infected) zones to Pink (Buffer) zones and then to Yellow (Surveillance) zones through the efforts of their respective veterinary offices.
Section 4 DA Administrative Order No. 30 series of 2021 indicated the following requirements for ASF zone progression:
–          Copy of Municipal Ordinance or transitory Executive Order (in absence of an ordinance) on the adoption of the Bantay ASF sa Barangay (BABay ASF) Program;
–          Copy of the farm registry of the municipality (includes proof of membership in FCA, if applicable, and Registry System of Basic Sector of Agriculture membership number);
–          List of Trainings on Swine Biosecurity attended by LGU staff;
–          Summary of ASF history in the Municipality in narrative format, including summary of outbreaks, surveillance and measures to prevent reintroduction of ASF in the area;
–          Narrative Report on Commencement of Repopulation Procedures, including negative disease monitoring reports and surveillance test results; and
–          Results of Bi-annual conduct of ASF Surveillance.
The first four requirements are for the zonal upgrade from Red to Pink, while the last two (narrative report and result of bi-annual conduct) are for progression from Pink to Yellow.
Natividad explained that the Bureau of Animal Industry has the sole authority to trigger the recovery process, which would start with the process of 'Sentineling'.
This process is an experimental step that places pigs in an area to indicate if the virus remains present there. If there are no recorded deaths between 30 to 90 days, repopulation can proceed.
Natividad said hog raisers have the ultimate responsibility in creating their respective proper disinfection and biosecurity procedures in order to step up in the recovery process.
He acknowledged, however, that it would still be a challenge even to a province as small as Guimaras, citing the example of Batangas.
Natividad added that the most basic that raisers can do is to conduct a simple biosecurity audit on whether they were affected by the virus or not.
"If they are hit [by ASF], they have to check for why they were hit. For those who were not hit, they have to check for their possible practices which may lead to a chance [of getting hit by ASF]. Those are practices we need to address," he said.
Western Visayas is one of the top hog-raising regions with 996,529 heads as of April 1, ranking 4th behind CALABARZON, Central Visayas, and Northern Mindanao regions.
But as of July 14, a total of 79,376 heads across the region have been depopulated, equivalent to ₱762.58 million in damages to affected farmers.
Out of 2,853 blood samples collected from 527 barangays in this region for testing, 996 from 338 barangays have yielded positive results for ASF, representing a population of 4,468, affecting 627 farmers.