Guimaras' annual rate of change in food commodity prices climbed to 9.4% in January 2022, faster than the –3.9% inflation in January 2021, and the quickest in 13 months.
The faster food inflation was propelled by price hikes in eight heavily weighted food commodity items, according to data released by the Philippine Statistics Authority (PSA).
The eight food commodity group items that recorded higher annual markups in January 2022 and contributed to the faster movement of inflation rate were:
Cereals and Cereal Products, from -11.7% to 1.1%
Cereals food group, from –16.9% to 1.5%, pushed by Rice which rebounded from –
17.1% to 1.6%
Meat and Other Parts of Slaughtered Land Animals, from 3.5% to 10.4%
Fish and Other Seafood, from 0.0% to 17.0%
Fruits and Nuts, from –3.8% to 8.2%
Vegetables, Tubers, Cooking Bananas and Pulses, from –2.6% to 26.9%
Sugar, Confectionery and Desserts, from –0.1% to 7.0%, and
Ready-Made Food and Other Food Products N.E.C, from 2.8% to 6.1%
Comparing the rate of change for January 2022 and December 2021, five food commodity groups exhibited higher price changes in December 2021 than in January 2022, namely: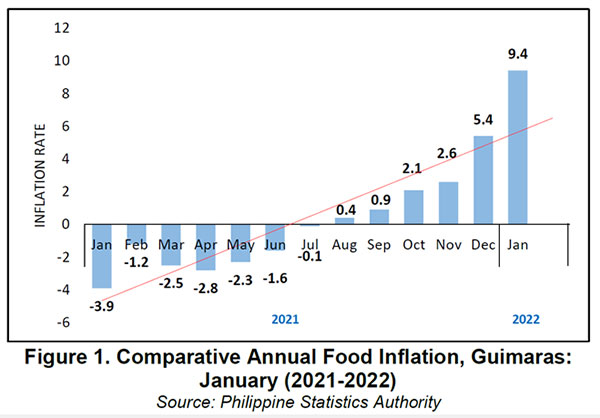 Meat and Other Parts Slaughtered Land Animals at 12.9%
Fish and Other Seafood at 19.7%
Milk, Other Dairy Products, and Eggs at 3.3%, and
Ready-Made Food and Other Food Products N.E.C at 6.6%
Comparing food inflation trends of Guimaras Province for 13 months (January 2021 to 2022), the current 9.4 percent inflation rate is the fastest rate of change, which is 13.3 percentage points faster than –3.9% inflation in January 2021 and 4 percentage quicker than in December 2021. (See figure 1).
Food inflation in Guimaras in the past 13 months shows an increasing trend (see Figure 1).
From –3.9 percent in January 2021, the slowest rate for 12 months, it moved a bit faster to –1.2 percent in February, but plunged to –2.5 percent in March, and slowed further to –2.8 percent in April.
From then, inflation escalated to 0.4 percent in August and consistently moved upward until it reached 5.4 percent in December 2021, which finally soared to 9.4 percent in January 2022.