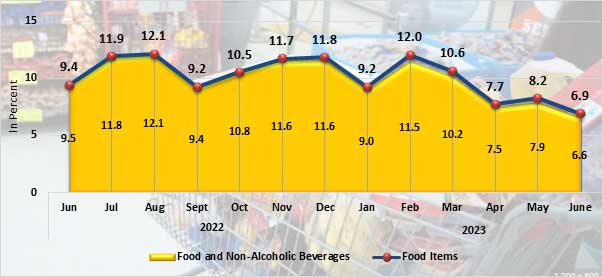 Slower food inflation at 6.9% in June 2023 pulled down the province's Food and Non-Alcoholic Beverages inflation rate to 6.6 percent in June 2023, slower than the 7.9 percent in May 2023.
This is based on the Retail Price Survey of Commodities for the Generation of the Consumer Price Index of the Philippine Statistics Authority (PSA).
Figure 1 shows that trends in food inflation over 13 months started at 9.4 percent in June 2022, then rose to 11.9 percent in March, and peaked at 12.1 percent in August 2022, the fastest inflation for 13 months.
"There was a slow movement in the food inflation in September 2022 with 9.2 percent, then it speedily moved in the ensuing months, reaching 11.8 percent in December 2022. Additionally, food inflation in Guimaras began at a slower pace of 9.2 percent in 2023 and spiked to 12.0 in February. From then, the food inflation in Guimaras decelerated until April, and slightly inched-up to 8.2 percent in May, which finally eased to 6.9 percent in June 2023," Provincial Statistics Officer Nelida B. Losare said.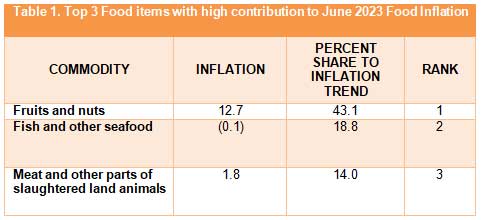 "The top 3 food items with high contributions to the slower food inflation in June were: Fruits and nuts with a share of 43.1 percent; Fish and other seafood, with 18.8 percent; and Meat and other parts of slaughtered land animals with 14.0 percent share," Losare added.
Other food items that pulled down food inflation in June 2023 to a slower rate were:
Rice with 8.5% inflation sharing 6.9 percent;
Oils and fats with 12.7% inflation sharing 6.8 percent;
Milk, other dairy products, and eggs with 10.5% sharing 3.3 percent;
Sugar, confectionery, and desserts with 29.1% giving out 2.9 percent;
Flour, Bread And Other Bakery Products, Pasta Products, And Other Cereals with 6.0% inflation sharing 2.5 percent;
Ready-made food and other food products n.e.c. with 7.0% chipping in
1.4 percent; and
Corn with 8.8% sharing 0.3 percent.
Comparing the average food inflation rates by province, Guimaras posted the slowest at 6.9 percent in June 2023, while Antique had the fastest rate of 10.8 percent, followed by Aklan (10.1%), Iloilo (8.8%), Capiz (8.5%), Iloilo City (8.3%), and Negros Occidental (8.2%).
Two of six provinces of the region exhibited an upward trend in June 2023, Antique at 10.8 percent from 8.4 percent and Negros Occidental at 8.2 percent from 7.5 percent when compared to their level a month ago, while four provinces managed to slow down.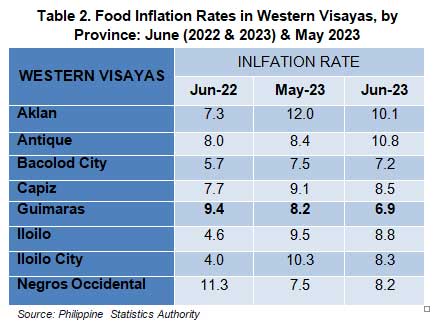 Moreover, when compared to the same month in 2022, only Guimaras (6.9%) and Negros Occidental (8.2%) revealed slower inflation rates, while the rest of the provinces, including  the two Highly Urbanized Cities recorded speedy price changes; Iloilo rose to 8.8 percent from 4.6 percent a year ago, Iloilo City and Bacolod City soared to 8.3 percent from 4.0 percent and 7.2 percent from 5.7 percent, respectively.