By Joseph B.A. Marzan
Guimaras' annual Manggahan Festival is back this May 2022 as it seeks to revitalize the island province's economy through its famed mangoes amid the economic effects of the coronavirus disease 2019 (COVID-19) pandemic.
The province opened the festival last Saturday, May 14, with its Manggahan Agri-Trade Fair and its signature Mango-Eat-All-You-Can contest.
The contest allows people to eat all the mangoes they can within 30 minutes for just P100 at the designated area near the trade fair site at the Guimaras Provincial Capitol grounds.
This will only run on May 14 to 15 and May 20 to 22.
The Provincial Office for Agricultural Services (POAS) has allocated 10 tons of mangoes for the contest, and another 10 tons for sale at the Agri-Trade Fair.
Other economic activities lined up during the week-long festival include the 1st Manggahan Public Service Expo (May 14 to 22), the Mango Stakeholders Forum (May 18), and a Jobs Fair (May 20).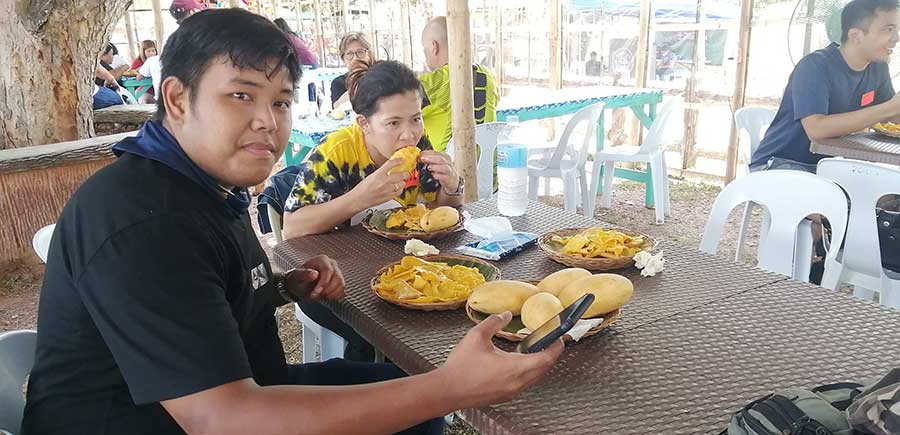 Sports activities also form part of the festival's lineup, including a Mobile Legends: Bang Bang Tournament (May 20 and 21) and a Manggahan Bike Fun Ride (May 21).
Nighttime activities include music performances on May 20 to 22, as well as a Fireworks Display on May 22, all to be held at the Capitol Grounds.
Online exclusives include Butlak Guimaras Specials mini-documentary series (May 20 to 22) a showcase of entries from the festival's Vlog Making Contest (May 20), and the mini-documentary Panakayon (May 21), which features the province's best practices in agriculture, environment, and tourism, among others.
The festival culminates in the Guimaras Pearl Anniversary Celebration, which celebrates the province's proclamation as being separate from on May 22, 1992 via plebiscite pursuant to Section 462 of Republic Act No. 7160 (Local Government Code of 1991).
Provincial Tourism Office officer-in-charge Liberty Ferrer said that the last three days are the highlight of the
"Most of our highlights will be on May 20, 21, and 22, along with the celebration of our Peal Annivesary. The province will be celebrating its 30th anniversary on May 22," said Ferrer.
Provincial Economic Development Office chief Elena Quezon says that the festival is a "bounce-back" after the COVID-19 pandemic and last year's Typhoon Odette.
She cited that the province lost P210 million in the fisheries sector alone due to the December typhoon.
"We want to do more. We need assistance and partnerships (sic) in such a way that we'll not be left behind within Region 6, that is why we are working harder to assist our constituents, much more our small and medium industries here, so that we'll be able to produce products again to lift up the economy of the province, thus we really pursued to have this Manggahan 2022," Quezon said.
Quezon also announced that they will be applying for a Geographical Indication in partnership with the French Government and the European Union, with technical assistance to help sustain the mango industry in the island province, to ultimately enable them to promote mangoes in the European market.
The World Intellectual Property Organization defines Geographical Indication as "a sign used on products that have a specific geographical origin and possess qualities or a reputation that are due to that origin. In order to function as a GI, a sign must identify a product as originating in a given place."
She originally announced an introduction of the mangoes to Europe back in 2019, they had to adjust to the phytochemical standards for fruit's exportation.
Ferrer said that the mango industry contributes 20 percent of the P120-million agricultural exports, which also accounts for 60 percent to Guimaras' economy and adds to the specialized labor skill of mango-wrapping.
"Right now, we're exporting labor for mango-wrappers up to Pangasinan [in] Ilocos, as well as down in Mindanao, and [it is] not only 1 or 2 laborers that goes to these provinces. That is why we are developing additional skills [training] of mango-wrappers because we are losing a major labor force," she added.
Alvin Nava from the POAS said that the provincial government is aiming for a slogan that would suggest that Guimaras is beyond its world-famous mangoes.
"Aside from mangoes, we have other crops or other industries which is a source for our income. The total area planted for mangoes is only 6,000 [hectares] which is only 10 percent [out of Guimaras' 60,000-hectare total land area]. But we cannot just ignore [mangoes], being our island's pride, so [POAS is] ensuring continuous sustainable production," said Nava.
This is the first time that the festival is being held since 2019, after COVID-19 infancy in 2020 and surges in 2021 have forced its cancellations twice.
Quezon cited that the 2019 edition's trade fair, excluding restaurants, have generated P19 million in sales.