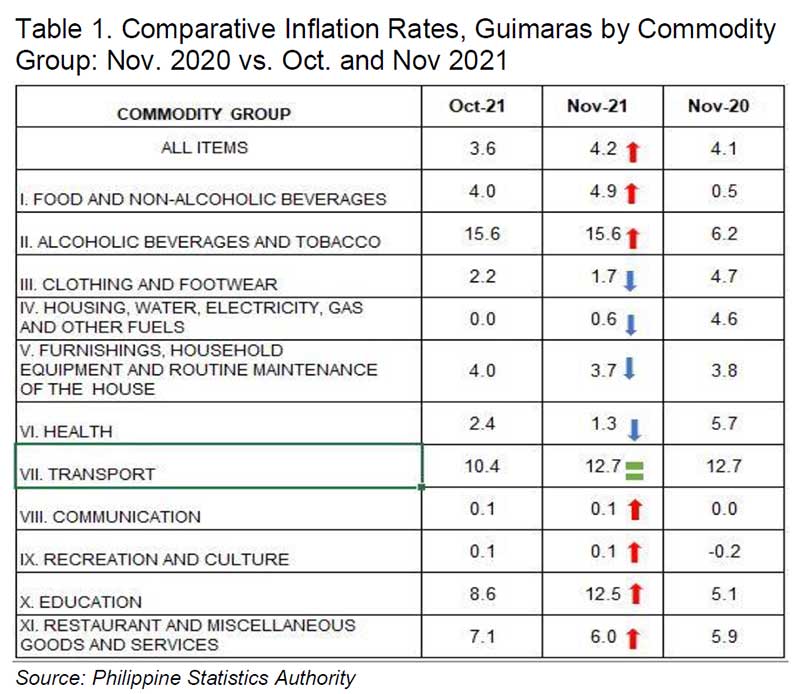 Inflation rate in Guimaras for November 2021 climbed to 4.2 percent, quicker by 0.1 percentage points from the November 2020 rate of 4.1 percent, due to faster price movements in six commodity group items.
The 4.2 percent November 2021 inflation is 0.6 percentage points higher than the 3.6 percent monthly rate of change recorded a month ago, according to the result of the Retail Prices Survey (RPS) conducted by the Philippine Statistics Authority (PSA).
This means that the change in the costs of goods purchased in November 2021 were 4.2 percent faster than prices purchased in November 2020 and in October 2021.
The faster inflation rates in November 2021 were due to higher prices of Food and Non-Alcoholic Beverages (4.9 percent), Alcoholic Beverages and Tobacco (15.6 percent), Education (12.5 percent), and Restaurant and Miscellaneous Goods and Services (6 percent), Communication, and Recreation and Culture with (0.1percent).
"The recorded increment in the November inflation, however, was tempered by the slower price movements in clothing and footwear commodity groups which dropped by 3.0 percentage points, from 4.7 inflation in November 2020 to 1.7 percent a year after," Provincial Statistics Officer Nelida B. Losare said.
The slower inflation on Actual Rentals for Housing, which dropped to 1.3 percent, and stagnation of Water Supply and Miscellaneous Services Relating to the Dwelling pushed down Housing, Water, electricity, Gas and Other Fuels rate to 0.6 percent in November 2021, against 4.6 percent in November 2020.
The Furnishings, Household Equipment and Routine Maintenance of the House commodity group also decreased by 0.1 percentage points from 3.8 percent in November 2020 to 3.7 percent in November 2021.
Meanwhile, the health commodity group also recorded a decrease of 4.4 percentage points from 5.7 percent in November 2020 to 1.3% in November 2021, mainly pushed by the slower price index of Out-patient Services.
Among the commodity groups, only the Transport group remained steady at 12.7 percent in November 2021.
The commodities are monitored by the PSA during the Retail Prices Survey (RPS) for November 2021 with an index of 130.9, which means that an average Guimarasnon household needs PHP30.9 more in November 2021 to buy a basket of goods worth PHP100 in 2012.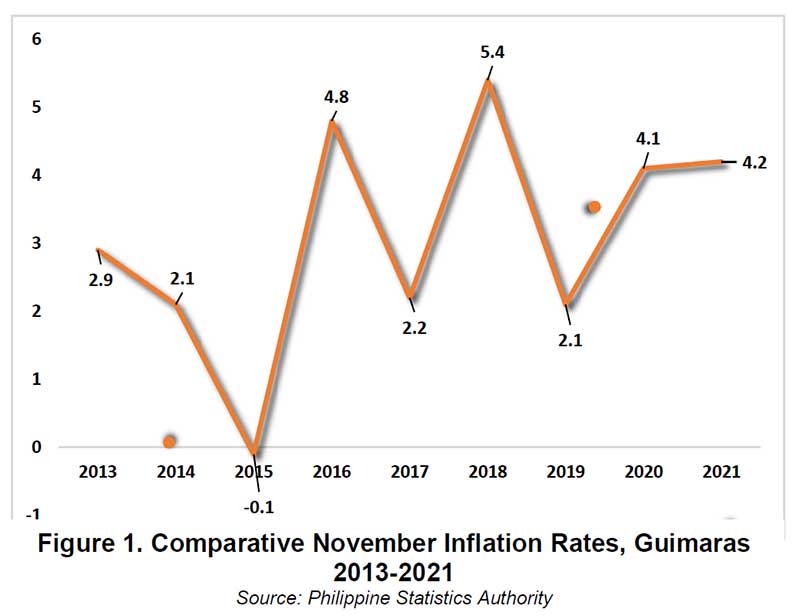 infla
Looking at the November year-on-year inflation rate throughout the nine consecutive years, 2018 had the fastest rate, at 5.4%, and November 2015 had the slowest rate of –0.1%.
The November inflation rates from 2013 until 2021 moved at a random and unpredictable pattern.
Figure 1 shows that the high price changes were in years 2016, 2018, 2020, and 2021.
Inflation rates moved erratically: from a –1 percent slump in 2015, it climbed to 4.8 percent in 2016 then plunged to 2.2 percent in 2017.
It soared to 5.4 percent in 2018, or an increment of 3.2 percentage points, before plunging again by 3.3 percentage points at 2.1 percent in 2019.
From then on, the rate gradually increased by 2 percentage points to 4.1 in 2020 and 4.2 percent as of November 2021.