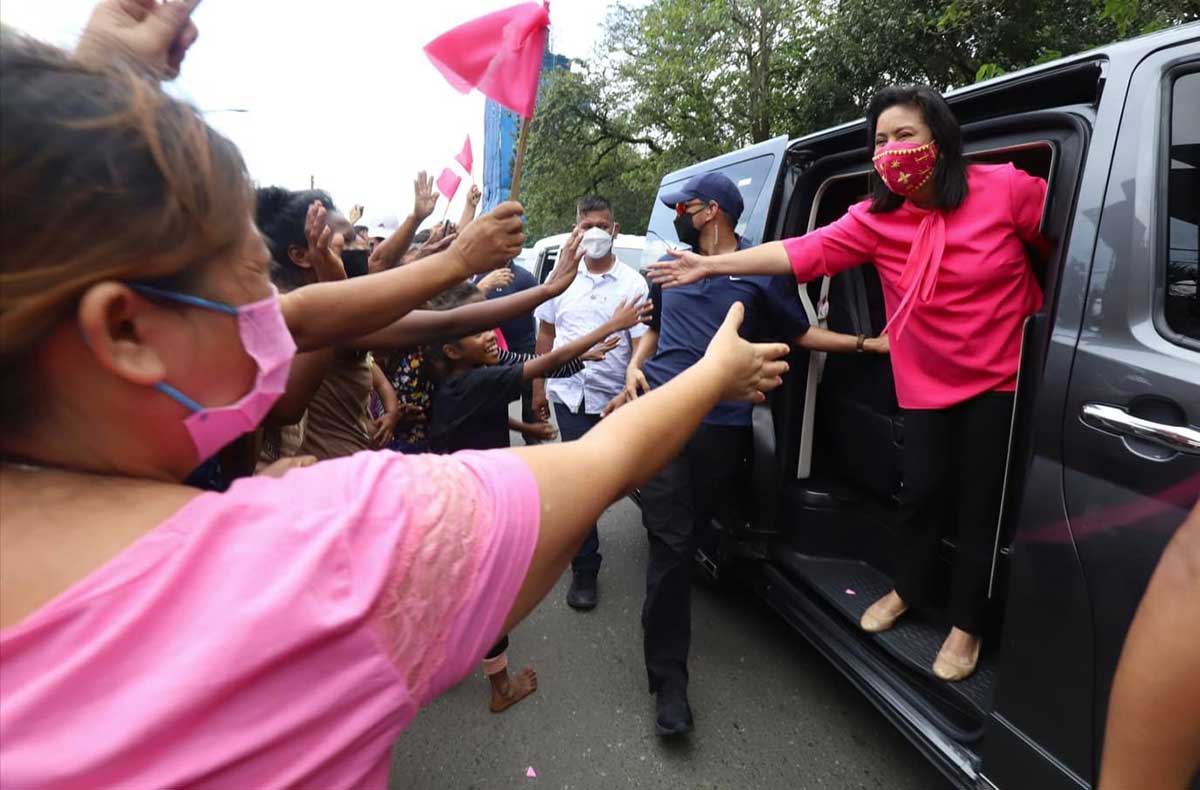 By Jennifer P. Rendon and Joseph B.A. Marzan
Cheers, yells, and colorful dances greeted the 2022 election tandem of Vice President Leni Robredo and her running mate Senator Francis "Kiko" Pangilinan as they arrived in Iloilo for their 2-day visit on Friday, Dec 3, 2021.
In the words of Iloilo City Mayor Jerry Treñas, "I have never in my political career since 1986 seen such energy, such love and such volunteerism as I have seen today. I am overwhelmed by the love and welcome by the Ilonggos for VP Leni. People are jumping, dancing, and crying for joy."
Indeed, with how Ilonggo welcomed Robredo and Pangilinan, Iloilo votes might indeed work for the lady vice president's favor again.
During her vice-presidential run in 2016, Robredo got 69 percent of the votes in Iloilo province and 61 percent in Iloilo City.
The moment Robredo and Pangilinan arrived Friday morning at the Iloilo International Airport in Cabatuan town, they were personally welcomed by Iloilo Governor Arthur Defensor Jr. and Treñas.
Both local leaders are members of the National Unity Party (NUP) but have earlier expressed that they would be supporting Robredo's candidacy.
On their way to Iloilo City, residents lined up the streets wearing pink t-shirts and pink balloons. Pink ribbons were also conspicuously tied on the poles and trees. Stationary caravans were present on her route from the airport to Iloilo City.
As soon as Robredo got out of the airport, there were already supporters waiting for her in Santa Barbara town, where she was greeted by a band and dancers, as well as members of the local government unit.
Mayor Rema Somo also gifted her with native products from the historic town.
Thanked by Somo for her projects in the province, the vice president only replied, "Kulang pa po, kulang pa."
People from all over the province also flocked to the caravan, with visible signs indicating supporters from the towns of Mina, Lambunao, Badiangan, and Barotac Nuevo.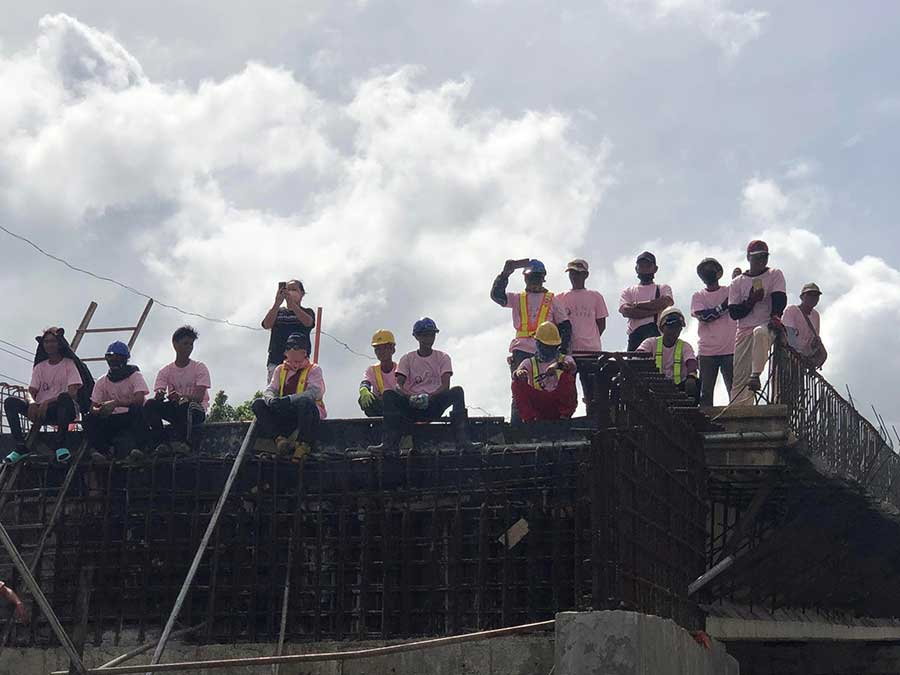 Sectors were also well-represented, including doctors, lawyers, law students, youth groups, and even construction workers of the unfinished Ungka flyover at the Pavia-Iloilo City border, who spectated from atop the structure.
Robredo and Pangilinan were also warmly welcomed by Iloilo City village chiefs during their meet-up at the Don Francisco Village in Jaro district.
For Treñas, the stationary caravan is proof that thousands of Ilonggos united for Robredo. He narrated how Ilonggos showed excitement as they waited for Robredo
"With the welcome of VP Leni in Iloilo Province and City, I predict that she will get more votes here compared to her hometown in Bicol," he said.
There were also groups who danced on the streets when the team's convoy passed by.
Robredo later met with all 180 barangays captains of Iloilo City at a gymnasium in M.H. Del Pilar in Jaro district.
Robredo and Pangilinan were joined by their senatorial bets – Atty. Chel Diokno, Sonny Matulac, and Atty. Alex Lacson – along with Ilonggo Senator Franklin Drilon, and former Quezon province representative Erin Tañada.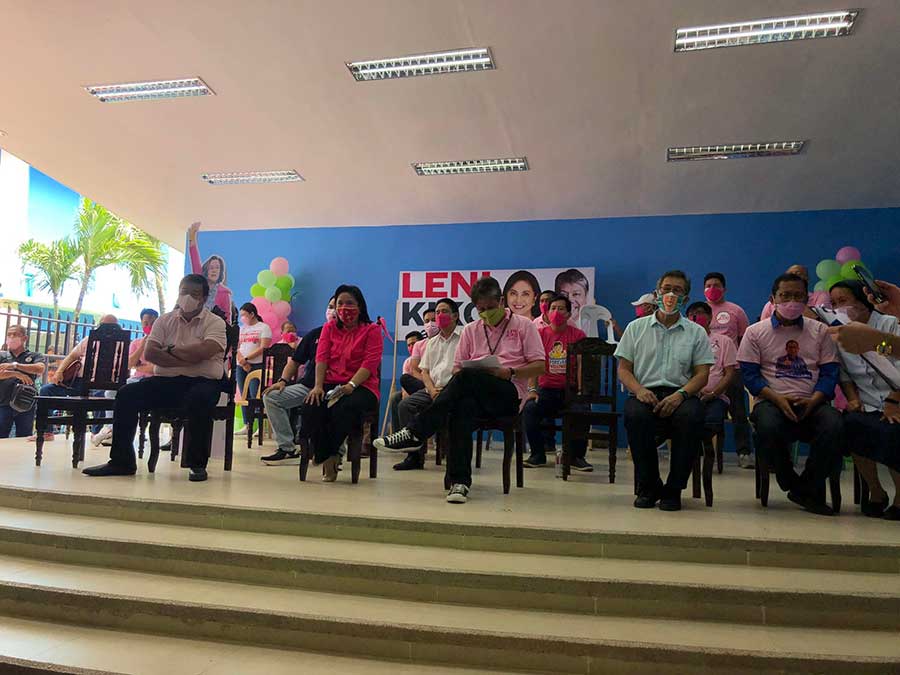 "We are very blessed that our Vice President continues to be available to listen to the people and local leaders while sharing her future goals in creating a progressive country for all," Treñas said.
The vice president thanked the city and province of Iloilo for its overwhelming support for her in the 2016 elections.
Polling data showed that she won in both the city (137,662) and the province (573,829). Ferdinand Marcos Jr. ranked second in both the city (94,411) and the province (33,778).
Marcos' Presidential Electoral Tribunal petition, which alleged fraud against the Robredo camp, had Iloilo City and Iloilo province as one of its pilot areas for recount, which still turned out for the vice president.
"Madamo gid nga. Salamat sa dako nga boto nga ginhatag niyo sa akon sang 2016," the vice president said in Hiligaynon.
Afterwards, the tandem made their way to the Iloilo City Hall, where they were still greeted with the same warm welcome from M.H. Del Pilar in Jaro, all the way to Iznart and J.M. Basa streets.
Even Robredo was in awe with the warm welcome she got from the Ilonggo community. She also met with business leaders and youth groups.
"Bumabaha ng pink sa Iloilo! Masayang-masaya kami na masaksihan ang inyong nag-uumapaw na pagmamahal at suporta! Sa lahat ng mga kakampink nating Ilonggo na lumabas at sumalubong sa atin ngayong araw, madamo gid nga salamat!" Robredo said on her Facebook account.
The city hall affair with Treñas and other city government officials was closed door, but sources tell Daily Guardian that this was where Robredo and Pangilinan expressed their surprise over the turnout.
Robredo and Pangilinan were able to finally address their reactions publicly at an event at the Iloilo provincial capitol, where they both stated that they were overwhelmed with the turnout.
Town mayors, councilors, and beneficiaries of the Office of the Vice President's Angat Buhay program were present at the event.
Iloilo is one of the areas where the Angat Buhay program has had the most projects, with 110 (85 in the province and 25 in the city).
"We did not expect it to be this grand. That is why we're thankful to those who have waited in the streets and roads, and all areas where we went to. That is what gives us strength," said Robredo.
The vice president also cited the support given by local officials, calling it a "risk" given the current political climate.
"We're so thankful [for the support] because we know that it was not easy, given the current political realities. So the expression of support spelled a lot of difference for me and Senator [Pangilinan] and the entire slate," she added.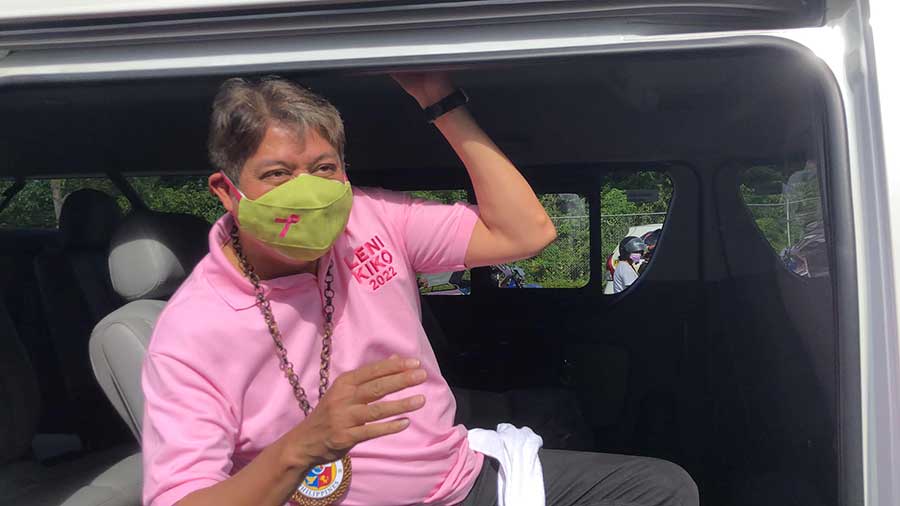 Pangilinan also answered the question he heard the most while greeting the supporters, and referred them to his wife's YouTube channel.
"Earlier this morning, people have been looking for Sharon [Cuneta]. They were asking me, where was Sharon? Well, watch her interview with Vice President Leni [Robredo] at 7 p.m. [December 3]. She is also helping us because she also believes that the vice president is the best to be our head of state," said Pangilinan.
The tandem also promised that they would be back after February 8, the first day of the official 2022 election campaign period for national-level candidates.
"Nagpapasalamat po kami sa lahat ng nag-abang sa kalsada, sa lahat ng pinuntahan natin. 'Yun po ang nagbibigay sa amin ng lakas," she said.
She also underscored the overwhelming support of the local leaders stressing that it's not easy given the current political realities.
"So, ang hayagang pagsuporta spelled a lot of difference for our entire slate," she said.
Today, Dec 4, Robredo will lead the "Ride with Leni" activity at the Iloilo River Esplanade. She will also visit several places in Iloilo City, including the Brgy. San Isidro Relocation site, the Jaro Cathedral, several campaign headquarters, as well as activities in the towns of Leganes and Maasin.
Since announcing her plans for the presidency, Robredo's supporters have been doing a regular bicycle ride and walkathon to buoy her candidacy.
Supporters – from doctors, lawyers, members of the academe, and ordinary citizens – have also been giving out lugaw (porridge), pink siopao, bread, and ice cream.
Also, part of her schedule will be a meeting with priests and nuns and other religious groups.
She will also grace the blessing of the Leni-Kiko Iloilo Headquarters in Jaro, Iloilo City and met with business leaders and youth groups.
Robredo is also expected to visit the towns of Leganes and Maasin.