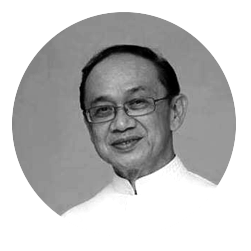 By Fr. Roy Cimagala
WE know that for miracles and some extraordinary divine interventions to take place for our very difficult if not impossible situations we can encounter in our life, we need to have a strong faith. This is validated many times in the gospel where Christ would only respond to those requests that are backed up by strong faith.
For example, in that episode of a father of a lunatic who was possessed by a demon, Christ reproached his disciples for being unable to drive out the demon because of their lack of faith. (cfr. Mt 17,14-20)
"Why could we not drive it out?," the disciples asked Christ who said, "Because of your little faith. Amen, I say to you, if you have faith the size of a mustard seed, you will say to this mountain, 'Move from here to there,' and it will move. Nothing will be impossible for you."
Faith, a strong faith, is always needed for miracles to happen. But to have a strong faith, a deep and solid humility is also needed. There is no way such faith can come to us unless we are truly humble.
We need to be humble to attract and receive God's grace that would enable us to do what we cannot do on our own—to be able to love everyone, including our enemies. Christ has told us, nay, commanded us to love our enemies, and that is just impossible for us to do unless we have God's grace.
But the grace of God, which is always made available, cannot enter into our heart and would have no effect in us unless we humble ourselves, denying ourselves of our own likes and preferences and willing to carry the cross of Christ, which is the cross that signifies everything that we do not want and also all the sins of man.
It is humility that is the gateway for God's grace and Christ himself to enter into our lives, empowering us to do what God himself, who is all love, does. Humility involves a certain giving up, a certain dying that actually gives rise to a better life, just like a seed has to die before it bears fruits.
Remember what Christ said about this point. "Truly, truly, I tell you, unless a kernel of wheat falls to the ground and dies, it remains only a seed. But if it dies, it bears much fruit." (Jn 12,24) And he continued: "Whoever loves his life will lose it, but whoever hates his life in this world will keep it for eternal life…" (12,24)
How important it really is to learn how to be humble, unafraid of the many inconveniences it would surely involve! To humble oneself is actually never an act of cowardice nor the misfortune of a defeat. On the contrary, it requires a lot of courage to leave behind the nest of our comfort in order to fly to far distances, pursuing nothing less than heaven. And success and victory is assured, since Christ promised it. We should just have faith in Christ.
Humility is emptying ourselves that would strengthen our faith, since we would fill ourselves with nothing less than God himself, of whom we are supposed to be his image and likeness. Humility enables us to receive grace, and with grace we are enabled, in spite of our weaknesses and differences and conflicts among ourselves, to do what is impossible for us to do. It would be Christ doing it for us and through us.
Email: [email protected]