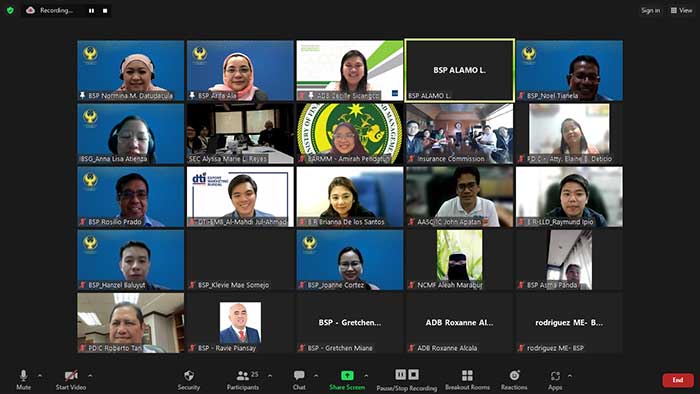 The Islamic Finance Coordination Forum (IFCF) affirms the commitment of member-agencies for calibrated initiatives in promoting Islamic banking and finance in the country.
Typifying the whole-of-government approach, the Bangko Sentral ng Pilipinas (BSP)-led IFCF is tasked to facilitate discussions, collaboration, and cooperation among members on all matters related to the promotion and development of Islamic banking and finance. This includes coordination on regulatory and prudential policies and initiatives.
"The BSP values the strong commitment of each IFCF-member-agency/institution in undertaking, prioritizing, and coordinating relevant initiatives that complement the BSP's prudential regulatory reforms and initiatives on Islamic banking and finance," said BSP Assistant Governor Arifa A. Ala, lead advocate on Islamic banking and finance and IFCF Chairperson.
"Our close collaboration and strong cooperation under the IFCF has led to the achievement of significant milestones, such as the establishment of the Shari'ah Supervisory Board in the Bangsamoro Autonomous Region in Muslim Mindanao (BARMM), the issuance of Bureau of Internal Revenue regulations to implement tax neutrality, and the issuance by the Insurance Commission of baseline regulations on takaful (Islamic insurance). These jumpstart the growth of the Philippine Islamic capital market and takaful; and make our country ready for the entry of Islamic finance players and investors," said Assistant Governor Ala.
To accelerate the promotion and development of Islamic banking and finance in the Philippines, the IFCF is planning to conduct a market demand study and possible roadshows to show prospective local and international stakeholders, investors, and players the viability of the Philippine Islamic finance market; finalizing preparations for a maiden Sovereign sukuk issuance;[1] and formulating and implementing Islamic finance-related programs, activities, and projects in the BARMM.
The IFCF is the formalized platform of the then Interagency Working Group on Islamic Banking and Finance[2] mandated to jumpstart collaboration among the stakeholders in finalizing the draft bill that was enacted into the Islamic Banking Law in 2019.
The forum is now composed of 12 member-agencies/institutions, namely, the BSP, Asian Development Bank, Auditing and Assurance Standards Council, Bangsamoro Government, Bureau of Internal Revenue, Bureau of the Treasury, Department of Trade and Industry, Insurance Commission, National Commission on Muslim Filipinos, Philippine Deposit Insurance Corporation, Philippine Financial and Sustainability Reporting Standards Council, and Securities and Exchange Commission
The BSP will continue to foster collaboration and cooperation under the IFCF and with other relevant stakeholders to spur the development of the Philippine Islamic banking industry and fully realize the shared vision to develop a vibrant Islamic finance ecosystem in the country.
---
[1] Targeted in late Q4 2023 or Q1 2024, market conditions permitting.
[2] The then Interagency Working Group on Islamic Banking and Finance, which was constituted under Office Order No. 1210 dated 24 May 2019, was reconstituted and renamed as the IFCF under Office Order No. 1655.