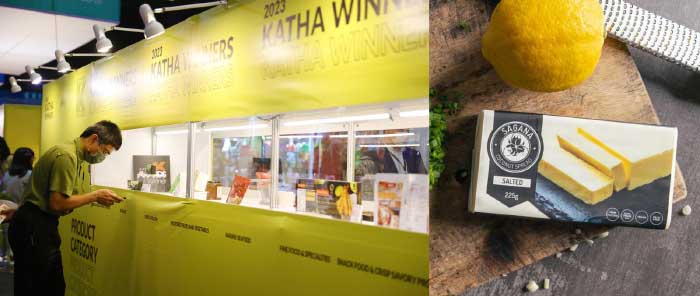 The 16th International Food Exhibition (IFEX) Philippines, the country's biggest international food and ingredients trade show saw a 52% increase in export sales or $162 million in actual and negotiated export sales, compared with its 2022 edition.
IFEX Philippines, a signature event of the Center for International Trade Expositions and Missions (CITEM) aimed to promote the country's food export industry, attracted almost 9,500 local and international trade visitors and buyers.
Physical Business-to-Business (B2B) meetings, with the assistance of the Department of Trade and Industry – Export Marketing Bureau, generated over $61 million in export sales. Visitors, on the other hand, generated ₱9.7 million in retail sales during the event.
Fruits and vegetables are the top export commodities with nearly $80 million generated in export sales alone, followed by snacks and crispy and savory food generating over $21 million in export sales. Meanwhile, total domestic sales generated by the trade show this year reached ₱147 million.
Sharing the love for Filipino flavors
The prestigious Katha Awards for Food was also a trademark component of the event. It served as an avenue for fresh flavors, innovations, and processes to be celebrated. The Katha Awards were categorized under baked goods and confectioneries, beverages, fine food and specialties, marine products, meat and poultry products, natural and healthy organic products, processed food and vegetables, snack foods, and crisp savory products, as well as special citations for best in packaging design, best in booth display (regional, individual booth and, best individual presentation, special product citation, and sustainable practices.
This year's IFEX Philippines gained a significant number of top buyers and visitors from the regions of East Asia, the Americas, and Middle East. They were able to discover new and innovative products from hundreds of local and foreign micro, small, and medium enterprises (MSMEs) from the Philippines.
According to CITEM Executive Director Dr. Edward Fereira, the event proves that Filipino food is on track to become one of the world's food-sourcing destinations for healthy and tasty Asian cuisine, especially with the growing presence of businesses from the region.
"This year's IFEX has been outstanding as we have brought together the best-tasting and the highest-quality of food products and ingredients under one roof with representations from the regions of the Philippines," Fereira said.
Fereira also underscored the importance of events like IFEX Philippines, noting that Filipinos can not only share innovations within the food sector with the global market but also impart the centuries-old culture and heritage of the Philippines.
"Through the event, we bridged more businesses together and improved our relations with our current partners as we gear toward responding to the growing demand for Asian and healthy food products like durian and ube," he added.