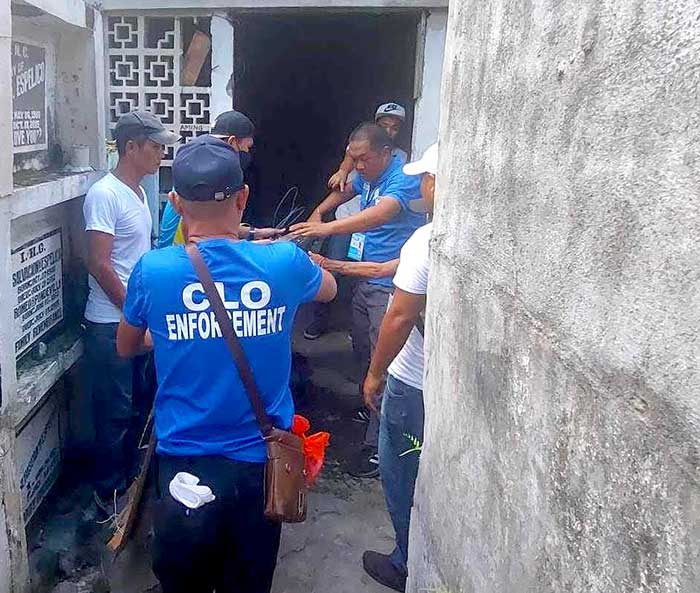 By Glazyl Y. Masculino
BACOLOD City – The City Legal Office (CLO) Enforcement Team started demolishing illegal structures inside the Burgos public cemetery here yesterday.
Rey Demisana, CLO Enforcement Team leader, said that they acted on the order of Atty. Romeo Carlos Ting Jr., CLO head.
Demisana said that six structures have been demolished as of yesterday morning, but they will continue to roam around the whole cemetery along with the police to check if there are still other structures.
Demisana said that they have advised the affected households or individuals to get their valuables and find a new place to stay, as they will have to implement the order.
Some of the structures were put up in mausoleums with illegal electrical connections directly tapping into the electrical posts.
Demisana said that these structures have been existing for so long, adding that others have been returning to the cemetery after the previous clearing operations.
"Indi gid sila katinir sa sulod," Demisana said, as he stressed that they will not allow private individuals to sleep, stay, or hold activities inside the cemetery without a purpose.
"Tanan na factors lantawon ta and we'll include it in a report that will be submitted to the CLO," he said.
Demisana said that consistency is needed to ensure that these informal settlers will not return to the cemetery.
No individuals can enter the cemetery, especially during nighttime.
He said that he has yet to receive an order regarding the clearing of structures in other public cemeteries here.
The clearing operations are not related to the observance of All Saints' Day and All Souls' Day next week.
Meanwhile, Demisana said that based on their assessment, maintenance of the said cemetery is a problem as there are obstructions in the pathways like tall grasses, while some tombs were already broken.