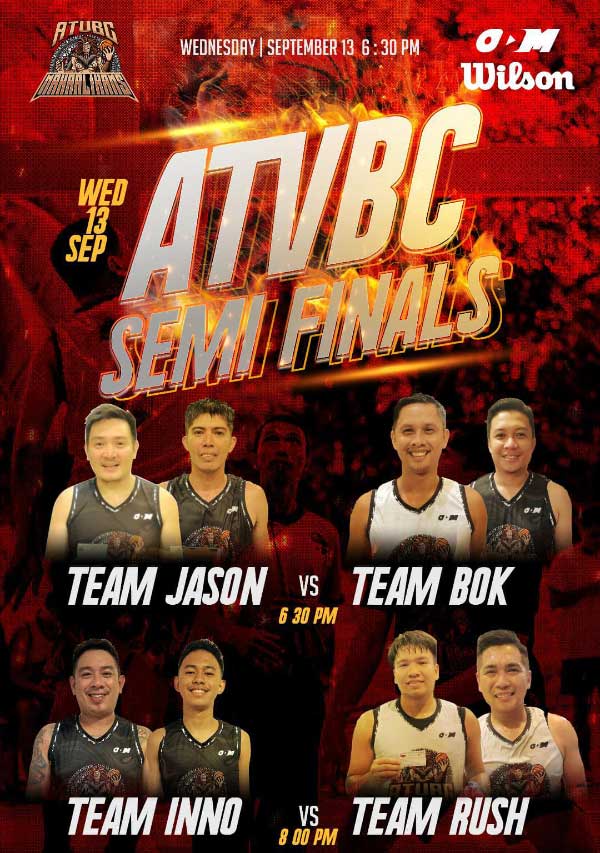 By Leobert Julian A. de la Peña
The stage has been set.
After almost three months of elimination phase, the talented ballers from the Iloilo Alta Tierra Village Basketball Club (ATVBC) will be kicking off its semifinal playoff round today, to be held at the Alta Tierra Village hoops gym later this evening.
From eight teams that duked it out during the quarterfinal round last weekend, only four clubs remained and will be vying for the two championship slots.
The first two teams that clinched early semifinal berths were team Rush and team Inno, while the last two seats were claimed by team Jason and team Bok.
Team Rush had to escape a fiery challenge from team JM after surviving them in a tightly contested quarterfinal duel, 84-81.
Rush Rubin, one of the squad's most reliable gunners, had another huge night and dropped a 31-point masterpiece to go along with 12 rebounds and seven assists.
Meanwhile, team Inno was all guns blazing against team RJ to punch a ticket to the semifinals, outdueling them 101-86.
Inno Miclat proved to be too much for team RJ after the three-point sniper star amassed a total of 47 markers and dished out 11 big assists.
With their respective victories, an action-packed semifinal clash between team Rush and team Inno will be taking place and will surely treat the avid basketball fans of Alta Tierra Village.
Moving on, Team Bok will also be making a semifinal appearance after taking down team Dodak during the do-or-die quarterfinals, 93-66.
Macario Gucayane was then hailed as the Best Player of the Game after exploding for 38 points, 11 rebounds, and four assists.
Clinching the last semifinal spot to complete the top four squads in the ATVBC playoffs is team Jason.
The members of the club did enough to hold off team Daboy, 75-65, with Jason Cerrillo carrying the load with 19 points, 10 rebounds, and five assists.
The whole ATVBC committee would like to thank its major sponsors: ODM Sportswear, Erp's Bulalohan/JB ABL, Stella, JAYTIE'S SAMGYUP by Robejes Wonders, Wilson, Mighty Mouse, WHAT'S UP, YARRY'S LECHON, Triple A Sole Collection, and Pound for Pound Fitness.