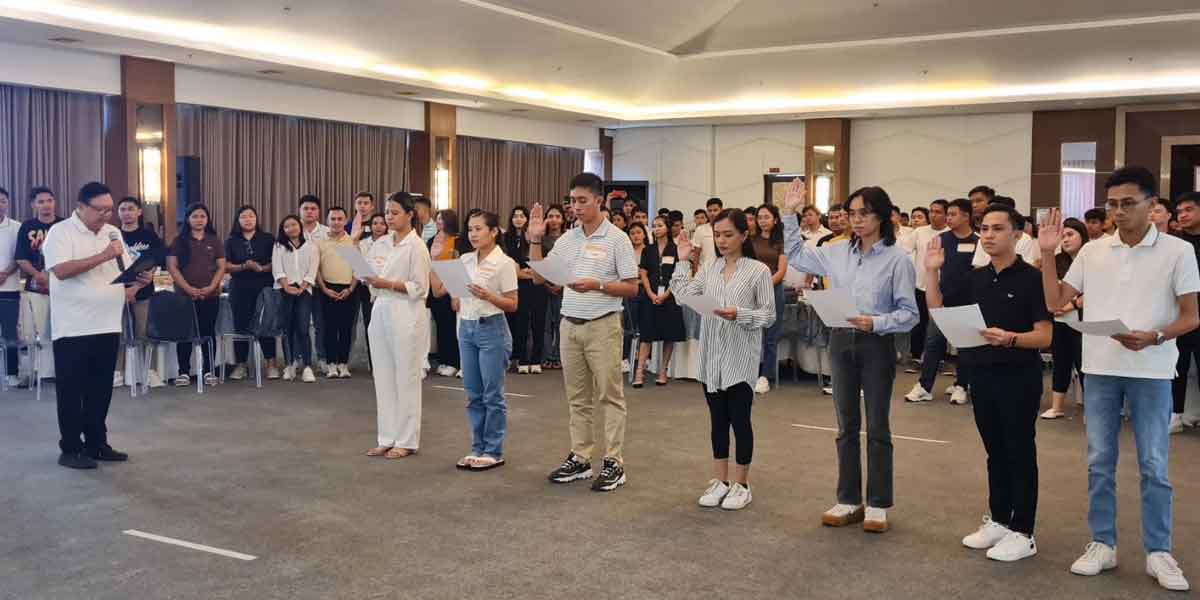 By Rjay Castor
Iloilo City has inaugurated a new set of officials for the Sangguniang Kabataan Federation Council on Tuesday, November 14.
Leading the SK Federation Council of Iloilo City as the new president is Jelma Crystel Implica of Barangay Jereos, Lapaz district.
Implica is now serving her second term as SK chairperson of Barangay Jereos. She previously served as the public relations officer for the city's SK Federation Council. She is a registered nurse and pursued her Bachelor of Science in Nursing degree from Central Philippine University.
The complete list of officers for the SK Federation Council of Iloilo City is as follows:
President: Jelma Crystel Implica (Jereos, La Paz)
Vice President: Julienne Jean Jaquet (Arguelles, Jaro)
Secretary: Jason Octavio (Hibao-an Norte, Mandurriao)
Treasurer: Raiden Benedict (Boulevard, Molo)
Auditor: Yanni Ysabel Panaguiton (Bo. Obrero, Lapuz)
Public Relations Officer: John Paul Elmar (Zamora-Milleza, City Proper)
Sergeant-at-Arms: Mike Enrick Elumba (Sto. Domingo)
All the newly-elected officials were unopposed during the elections. Although the nominees only needed at least one vote to be declared winners, the board of election supervisors still proceeded to count all cast votes.
Oscar Lim, head of the City Department of the Interior and Local Government (DILG), said the elections were successful and peaceful.
"Wala ka problema kay wala kontra. Wala ka may gina-expect nga mag-protesta," he said.
Lim further emphasized the value of uncontested elections in fostering unity within the council.
Out of the 180 SK chairpersons, only 175 were able to cast their votes. Some of the absentees failed to attend the SK mandatory training, a requisite to participate in the elections, while others had personal matters.
The newly-elected president expressed her genuine desire to contribute to the betterment of the youth in the city.
"Ang amon nga pagpadalagan is pure intention gid to serve the youth sang Iloilo, para mapanami pa gid ang mga programa, para mapalab-ot pa gid ang amon nga nagkalain-lain nga services sang government para sa atun mga kabataan," Implica said in an interview.
She will be part of the Iloilo City Council (Sangguniang Panlungsod) as an ex-officio member.
Implica dismissed claims of external influence on the elections and denied allegations of a term-sharing agreement with her vice president.
The newly-elected officials took their oath before Iloilo City Mayor Jerry Treñas on the same day.
Treñas assured the new officials of the federation his full support of its programs and activities, even offering personal funds in addition to the SK's resources.
"If one or two among your group will ultimately decide to join public service later on, malipay na gid ako. We need leaders […] and ang mga leaders in our future mahalin na ina sa inyo," he added.