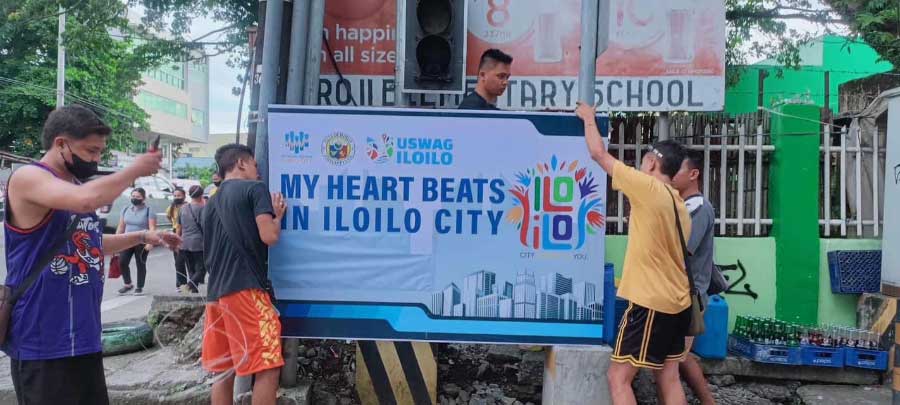 By Joseph Bernard A. Marzan
After placing teaser posters all over the city in the past months, Iloilo City Mayor Jerry Treñas on Tuesday expressed his excitement over the formal launch of the city's brand campaign, "My Heart Beats in Iloilo City."
In his regular press conference on Tuesday, Treñas shared more information on the new slogan, which is set to be formally launched during the city's Charter Day celebration on August 25.
The campaign aims to promote a sense of pride, love, and appreciation for the city, engaging the community via various strategies highlighting its unique heritage and culture and creating a strong emotional connection between the residents and the city, with the goal of fostering a deep sense of belonging and unity among Ilonggos.
The logo was also unveiled Tuesday after a short contest featuring logo designs. The winner was decided through Facebook reactions on the mayor's own page.
As part of its launch, the city government introduced a Heritage Tour package, a Tiktok dance contest, and a photo contest, for both residents and visitors of the city.
Treñas explained that the slogan is aimed at the city's residents, to exude "a certain sense of pride" in its beauty and its people.
"When you come here to Iloilo [City], there is a certain sense of pride of being Ilonggos that you do not see in any other place. We are proud of our food, we are proud of our places, we are proud of our heritage, we are proud of Ilonggos. That is why we will be launching this," he said.
Treñas said that the launch would not be like other promotional campaign blitzes and would be rolled out gradually.
The mayor also claimed that the campaign did not spend city government funds, saying that he personally funded the posters put up in many public places in the past months.
On the issue of prepositions, he also said that the public may use "My Heart Beats in Iloilo City" and "My Heart Beats for Iloilo City" interchangeably, "to make it more inclusive."