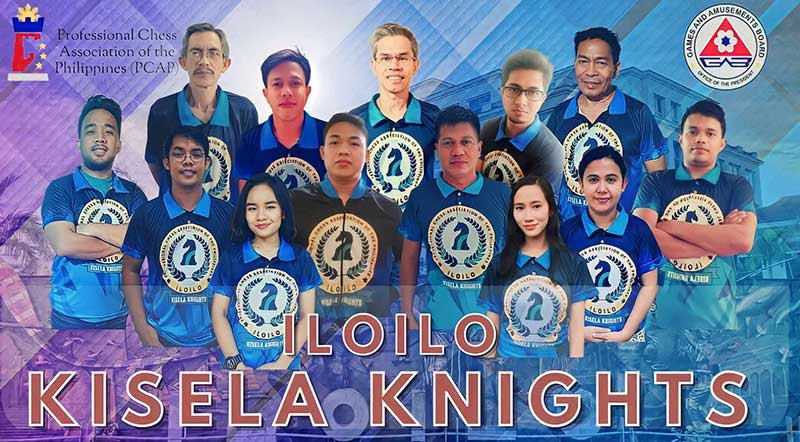 By Leobert Julian A. de la Peña
The Iloilo Kisela Knights stayed undefeated in the ongoing Professional Chess Association of the Philippines (PCAP) Wesley So Cup second conference last September 27, 2023.
Fresh off a dominant victory over the Cebu Niños during their opening game day, the Kisela Knights followed it up with back-to-back wins over Davao, 12.5-8.5, and Negros Oriental, 13-8.
The Davao Durianburg Stallions immediately fell to Iloilo's fine play after crushing them in the first seven playing boards, 5.5-1-5.
A four-board closing winning streak ended the blitz category on a high note for the Kisela Knights led by NM Cesar Mariano, NM John Michael Silvederio, NM Rolly Parondo Jr., and NM Fritz Bryan Porras.
Despite a tightly contested back-and-forth in the last seven playing boards, Iloilo's flawless blitz win was enough to propel them to a huge victory.
When Davao struck first in the rapid category, the clutch performances from NM Silvederio and NM Parondo Jr. helped Iloilo survive the tough challenge from the Durianburg Stallions.
It was a tougher contest against the NegOr SAGAR Sports as the squad edged the Kisela Knights in the first seven playing boards, 3-4.
However, Iloilo flipped the switch in the rapid category, stunning the SAGAR Sports, 10-4, to close out the match in style.
An early win for NM Rolando Andador spearheaded Iloilo's comeback followed by three-straight wins in the last three playing boards.
The trio of Mark Jossel Mariano, NM Parondo Jr., and NM Porras led the way in the closing minutes of the match for the Kisela Knights.