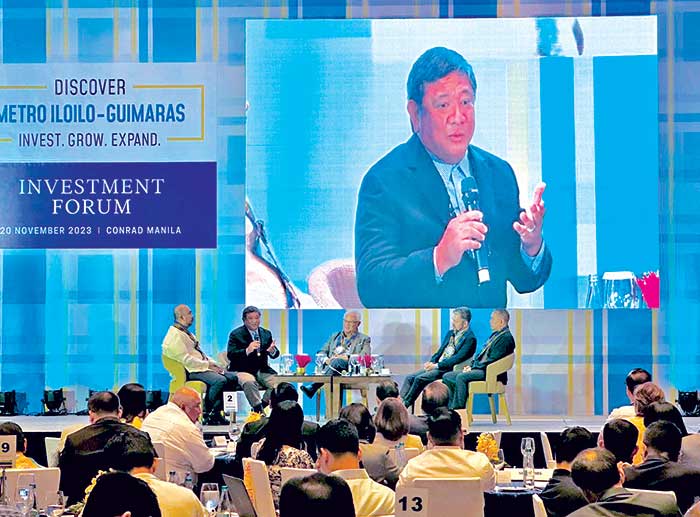 By Rjay Zuriaga Castor
Top officials in Iloilo and Guimaras presented to potential investors across the country why Metro Iloilo-Guimaras is an ideal investment location during a forum at the Conrad Manila Hotel in Pasay City on Monday.
The forum, a collaborative effort between the Metro Iloilo-Guimaras Economic Development Council (MIGEDC) and the Iloilo Economic Development Foundation, Inc., aimed to present to potential investors across the country the strategic advantages of choosing Metro Iloilo-Guimaras for their investments.
"As economic developments move beyond the borders of Iloilo City, the Metro Iloilo-Guimaras alliance invites investors to explore the growing economy of these areas, providing a strategic opportunity to expand their investments and contribute to overall development," said Iloilo City Mayor Jerry P. Trenas and the concurrent chairperson of the MIGEDC.
Meanwhile, Iloilo Governor Arthur Defensor Jr. underscored the interconnected nature of Metro Iloilo-Guimaras, pointing out the interdependence of their economies, shared human resources, and unified natural environment.
"Guimaras, Iloilo Province, and Iloilo City are really one… We were one in the beginning. We are still today, and we will always be. Our economies are interdependent, our human resources are unified, and our natural environment is shared. For us, the only way forward is to be connected. That is why we are here – to invite partners who will invest in us and grow with us," Defensor said.
To encourage more investors, Iloilo's top officials were joined by Guimaras Gov. JC Rahman Nava and the mayors of Pavia, San Miguel, Leganes, and Cabatuan.
The local leaders also shared in the forum investable areas and industry prospects in terms of tourism, healthcare, manufacturing, ICT-BPM, logistics, and real estate, among others.
High-profile businesses operating in the two provinces also shared their success stories, attesting to why investing in Metro Iloilo-Guimaras has been their best choice.
Presenters included Nora Terrado, VP-Senior Advisor of Carelon Global Solutions; Dr. Alfonso Uy, Chair of La Filipina Uy Gongco Group of Companies; Jan Vincent Sollesta, President of Pharma GalenX Innovations, Inc.; Paolo Maximo Borromeo, President and CEO of Ayala Healthcare Holdings, Inc.; and Michael Chua, Operations Manager of Everest Cold Storage, Inc.
The inaugural forum aims to attract investments worth no less than P500 million.