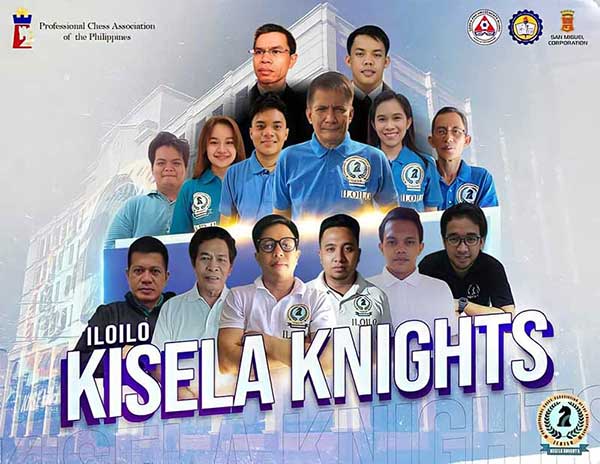 By Leobert Julian A. de la Peña
The Iloilo Kisela Knights ended their 2022 Professional Chess Association of the Philippines (PCAP) Wesley So Cup campaign with a second-place finish after falling short against the Pasig City King Pirates during the highly anticipated grand finals match.
Iloilo fought a determined King Pirates squad that outdueled them in three toe-to-toe duels, 8.5-12.5, 15.5-5.5, and 1-2 during the do-or-die Armageddon finale.
It was a great start for Pasig City during their first encounter as the Northern Division kings immediately jumped ahead in the first seven playing boards, 4.5-2.5.
Momentum-clinching back-to-back wins in the fifth and sixth playing board helped the King Pirates edge the Kisela Knights in the blitz category courtesy of Kevin Arquero and IM Eric Labog Jr.
The Kisela Knights stormed back in the rapid category after GM Hovhannes Gabuzyan and Karl Viktor Ochoa gave Iloilo four quick points off two-straight board wins.
GM Rogelio Antonio Jr. then increased Iloilo's chances of edging Pasig City after another win in the fourth board but a better response from the King Pirates in the last three duels sealed the deal for them in the first match.
Iloilo came out with a sense of urgency in the second match and dominated the blitz category with a 5.5-1.5 score and followed it up with a scintillating display of offense in the last seven playing boards.
From a score of six during the first match, the Kisela Knights improved to 10 points in the second duel led by a five-board winning streak.
All eyes were then on the do-or-die Armageddon stage as GM Gabuzyan, Ochoa, and GM Antonio Jr. went against Pasig's GM Paragua, Arquero, and IM Labog Jr.
The Kisela Knights notched the first win during the clash but Pasig got back with two-straight wins that officially declared them the champions of the Wesley So Cup.
It was still a great run for the Iloilo-based chess squad after punching another PCAP grand finals ticket and has kept their title as the reigning kings of the Southern Division.