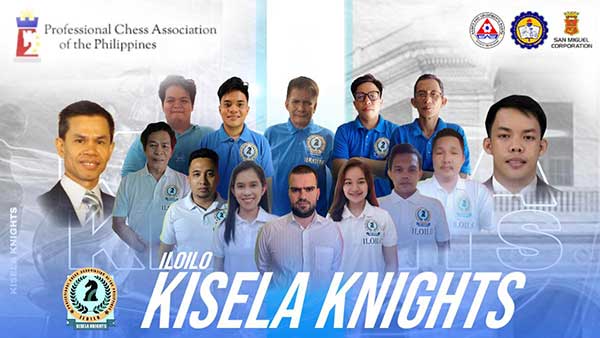 By Leobert Julian A. de la Peña
The Iloilo Kisela Knights capped off the first round of the round-robin on a high note and continued its undefeated campaign in the ongoing 2022 Professional Chess Association of the Philippines (PCAP) Wesley So Cup.
After a perfect 11-0 win-loss record during the elimination phase, the Ilonggo chess players replicated their performances in the playoffs and nipped Pasig, 11.5-9.5, and decimated Olongapo, 16-5.
It was an entirely different setup for the Kisela Knights after sweeping all Southern division teams, getting the first taste of playing against the representatives from the Northern division.
During the first match, the Kisela Knights faced a determined Pasig squad and became one of the few teams that went toe-to-toe with them on all the 14 playing boards.
It was a favorable start for Iloilo as GM Hovhannes Gabuzyan and Karl Viktor Ochoa immediately gave them two-straight wins on their way to a convincing 5.5-1.5 lead at the end of the blitz category.
However, Pasig responded with a huge offensive avalanche and took the three first boards courtesy of wins from IM Ildefonso Datu, IM Sherily Chua, and a tie from GM Mark Paragua.
Iloilo would strike back and banked on the veteran prowess of GM Rogelio Antonio Jr. and NM Fritz Bryan Porras to level the rapid category score in the middle part of the match.
Despite going down 6-8 in the rapid category, the Kisela Knights still pulled off their first win of the round-robin to clinch their 12th win in a row.
Meanwhile, against Olongapo, Iloilo displayed a flawless chess performance and overwhelmed them in both the blitz and the rapid categories.
Olongapo never seized the lead in all the 14 playing boards and got swept with a wide margin of victory, 5-2 in the blitz, and 11-3 in the rapid.