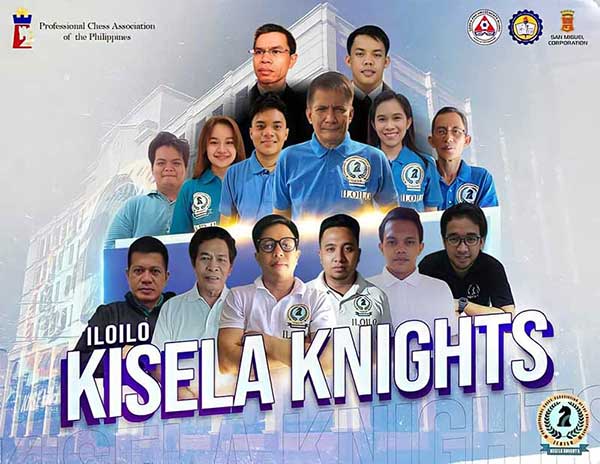 By Leobert Julian A. de la Peña
The Iloilo Kisela Knights are looking to sweep their remaining set of elimination games after notching their sixth-consecutive win in the ongoing 2022 Professional Chess Association of the Philippines (PCAP) Wesley So Cup.
Fresh from dominant wins against Zamboanga and Negros, the Kisela Knights replicated their stellar outing and prevailed over Toledo, 13.5-7.5, and demolished Surigao, 18-3.
The Kisela Knights made sure to maintain their no. 1 position in the Southern division and outscored Toledo in both rapid and blitz categories.
The trio of Karl Viktor Ochoa, GM Hovhannes Gabuzyan, and WFM Cherry Ann Mejia kicked off the Iloilo offensive onslaught in the first seven playing boards which led to Kisela Knights' 5.5-1.5 lead.
Toledo attempted to claw their way back and immediately clinched the first playing board of the rapid category courtesy of GM Xu Yi's win over Karl Viktor Ochoa that trimmed their deficit to just two points.
However, a quick response from Iloilo denied Toledo of a late comeback after notching two-straight wins following Ochoa's loss and a match-sealing three-board win in the last three matches.
Ending their sweeping match day is a convincing win against Surigao that capped off their six-game winning streak.
The Kisela Knights were in total control in their match against Surigao and led from the get-go up to the rapid category.
A 6-1 opening score in the blitz category quickly put the Kisela Knights up by a comfortable margin.
The bleeding for Surigao continued in the last seven playing boards and failed to manage a single win and only recorded a draw courtesy of GM Enrico Sevillano.
Iloilo will still have four elimination games before the playoffs begin and will most likely secure the no. 1 spot in the Southern division if they sweep all games.