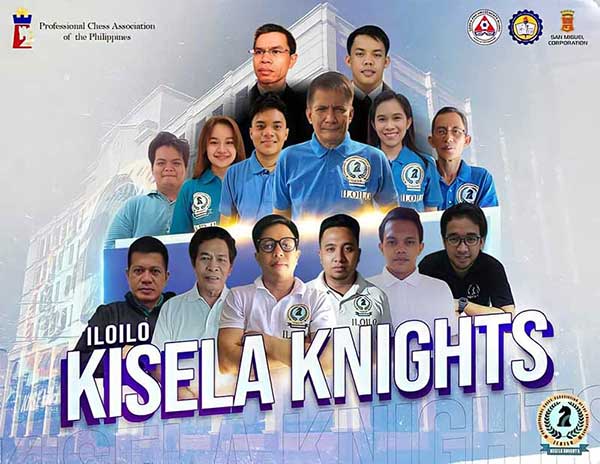 By Leobert Julian A. de la Peña
The Iloilo Kisela Knights will have the chance to clinch their second-straight championship title after reigning supreme during the Southern Division finals of the 2022 Professional Chess Association of the Philippines (PCAP) Wesley So Cup.
After sweeping the resilient Toledo City Trojans during the Southern Division semifinals, the Kisela Knights kept its focus and prevailed over their rival squad Negros Kingsmen in a sweeping fashion, 11-10, 12.5-8.5.
It was one of the most intense toe-to-toe matchups in the ongoing PCAP playoffs as both Iloilo and Negros exchanged wins from the get-go.
After seven playing boards in the blitz category, the Kisela Knights were able to edge Negros by just a point, 4-3, led by GM Hovhannes Gabuzyan, WFM Cherry Ann Mejia, GM Rogelio Antonio Jr., and NM Fritz Bryan Porras.
However, a back-and-forth affair happened in the rapid category as Negros opened the first board with a win courtesy of FM David Elorta but Iloilo was able to get back at them after a win by Karl Viktor Ochoa.
A momentum-clinching two-board sweep in the fifth and sixth playing board pumped up Negros' fighting spirit but Horizon Villanueva of Iloilo delivered the finishing blow after winning the last board over NM Roizon Roullo.
During their second encounter, the Kisela Knights got off to a better start spearheaded by two quick wins from GM Gabuzyan and Ochoa capped off by a huge seventh board win by NM Cesar Mariano.
It was the same story in the rapid category as Negros continued to fight in an attempt to force a do-or-die Armageddon stage but Iloilo refused to back down and nipped them 8-6 in the last seven playing boards.
With the win, the Kisela Knights just claimed another seat in the PCAP grand finals and will have the chance to become back-to-back champions as they face the Pasig City King Pirates in the grand finale.