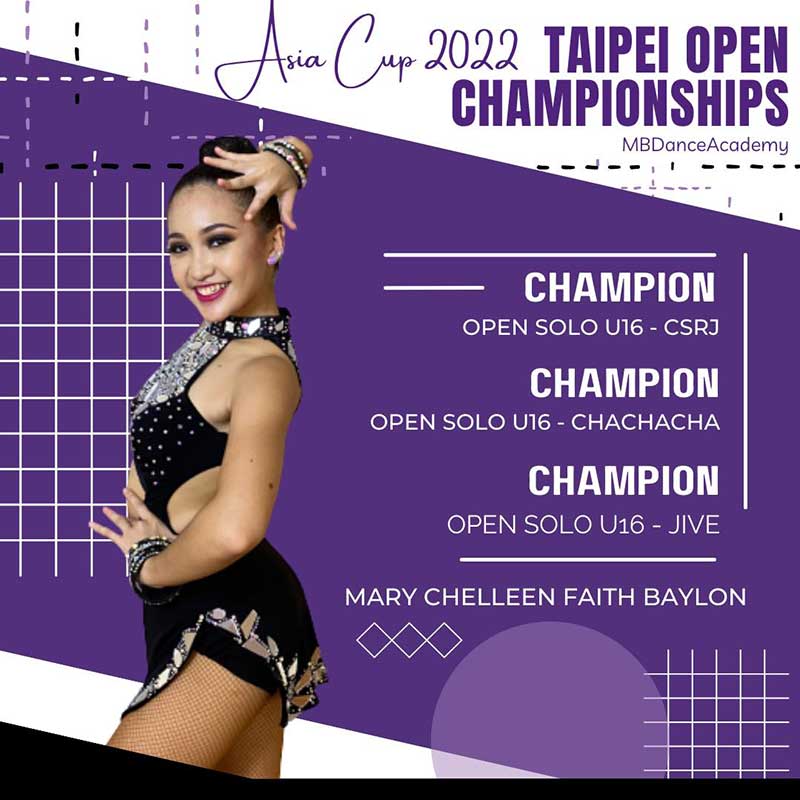 By Leobert Julian A. de la Peña
The accomplished and widely-renowned Iloilo MB Dance Academy made its highly-anticipated return to the international stage after reigning supreme during the 2022 Asia Cup Taipei Open Championship.
Fresh off a dominant 2022 Manila Open dance sports championship success, the MB Dance Academy continued to make waves and garnered five gold medals in the Asia Cup.
The magic duo of Zoe Alexandria Lanceta and Mary Chelleen Faith Baylon bested the other top contending stars in their respective categories and delivered another historic finish for the Iloilo-based dance sports organization.
Lanceta caught the attention of the judges during the Open Solo Under-14 CSRJ category and the Open Solo Under-12 CRJ.
The MB Dance Academy star put up a tremendous routine during her run and added another pair of gold medals under her belt.
Previously, Lanceta also impressed during the Manila Open and was one of the honorable mentions in the pool together with Jay Alexis Gabrielle Sarate, Anton Kristoff Canto, Alicia Pearl Cala-or, Kisha Aina Canto, and Treastan Tongua.
Meanwhile, Baylon, capped off MB Dance Academy's majestic finish after winning three gold medals in three different categories.
Baylon dazzled and out-performed the other participating countries in the Open Solo U-16 CSRJ, Open Solo U-16 Chacha, and the Open Solo U-16 Jive.
It was another spectacular finish for head trainer Matthew Cutanco Balbastro and his dancers after putting Iloilo City at the top of dance sports once again amid his hectic schedule.
Currently, mentor Balbastro and the rest of his MB Dance members are preparing for the next set of national and international competitions.