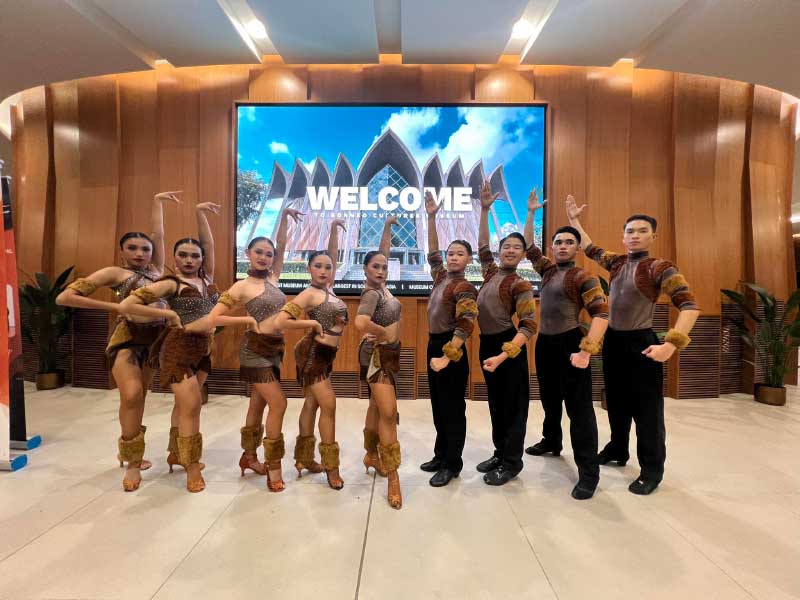 By Leobert Julian A. de la Peña
The accomplished and widely-renowned Iloilo MB Dance Academy turned heads once again on the international stage after getting invited during the Kuching International Dance Festival held in Kuching, Sarawak, Malaysia, from August 11-14, 2023.
It was a prestigious avenue for the Ilonggo dancers to showcase dance styles from the Philippines and the MB way of expressing themselves through movement.
Headed by their artistic director Dr. Matthew Balbastro, who is also their chief trainer, the team composed of Mary Chelleen Faith Baylon, Kate Michelle Jaramillo, Sabryna Hailey Gabasa, Syhara Jayden Gabasa, Crizha Mae Tingson, Jayson Gian Cala-or, Julius Kevin Panase, Jose Daniel Benito, and Kyle Rainier Sabio were able to pull off one of the most memorable routines in Malaysia.
The talented pool of hand-picked dancers all represent the MB Dance Academy and came from the different schools and provinces in Iloilo.
During their routine at the Kuching International Dance Festival, Dr. Balbastro and his squad performed their dance piece entitled "Circle of Life".
According to Dr. Balbastro, the piece reflects the cycles of lows and highs the living go through in a span of a lifetime.
Aside from the usual Latin-American dance style, Iloilo MB Dance Academy mixed their routine up after performing a street dance segment made by Ponce Ballenas together with the team's artistic director to compose an unanticipated hiphop-latin masterpiece.
The PHL representatives also imparted knowledge in the Latin-American discipline of dance after participating in the two-day workshop attended by more than 200 students all over Asia.
Iloilo MB Dance Academy was the only representative not only in Western Visayas but also in the whole Philippines.
During the last edition, the Iloilo-based Dance Academy was joined by the Halili-Cruz School of Ballet from Quezon City and was also held in the same venue.
"A journey of a thousand miles starts with a single step. Keep on dancing and inspiring other people, everyone!" said Dr. Balbastro in an exclusive interview with the Daily Guardian.