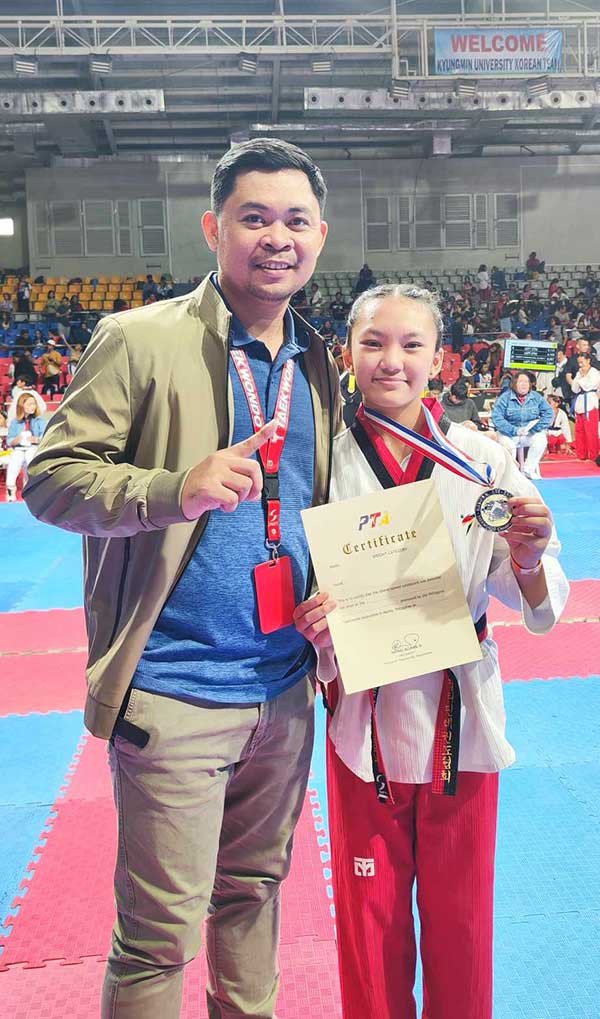 By Leobert Julian A. de la Peña
The Iloilo Mark V. Pinggol (MVP) taekwondo gym proved that they are one of the best stables in the country after making waves during the SMART National Age Group Taekwondo Championships from November 11-12, 2023, held at the Ninoy Aquino Stadium in Manila.
Mentored by no other than Mr. Mark V. Pinggol himself, the prized jins competed in both the sparring and poomsae categories.
After two days of intense taekwondo action, the MVP jins tallied a total of 20 golds, eight silvers, and nine bronze medals.
Headlining the list of the gold medalists in the individual poomsae category are Xian Jaiden Bayasca, Andria Margaret Palabrica, Zac Israel Orleans, and Fritjerald Encanto.
Also delivering gold medals for the MVP gym are Jan Emmanuele Dayata, Nathan Lee Dedal, Jin Saimon Saquilon, Arvin Kirk Derayunan, Adenny Lourl Rivera, and Duncan Kyle Rivera.
Meanwhile, during the team poomsae category, Elisha Miela Paradero, Fritzjerald Encanto, and Arvin Kirk Derayunan also bagged gold medals.
During the kyorugi/sparring category, Alleinna Nestley, Sophia Marie Bautista, Joel Alexander Cana, Nathaniel Somolostro, Adenny Lourl Rivera, Duncan Kyle Rivera, Gabriel Bayatan, Jin Saimon Saquilon, and Mc Greg Alfonso Donguila were hailed as the champions.
Honorable mentions who did enough to secure the silver medal are Anthony Benedict Planta, Kylie Elisse Olivares, Amber Gale Abellar, Adrian Joseph Gajasan, James Annrhey Pecayco, and Sheine Nicole De Asis.
Going home with the bronze medal are Cian Veedant Alonday, Christian Mark Palacios, Shan Michael Bayatan, Prince Ivan Dugayo, Sophia Grace Go, and Alyanah Julienne Tionko.
Congratulations, Iloilo MVP gym! Western Visayas' pride!