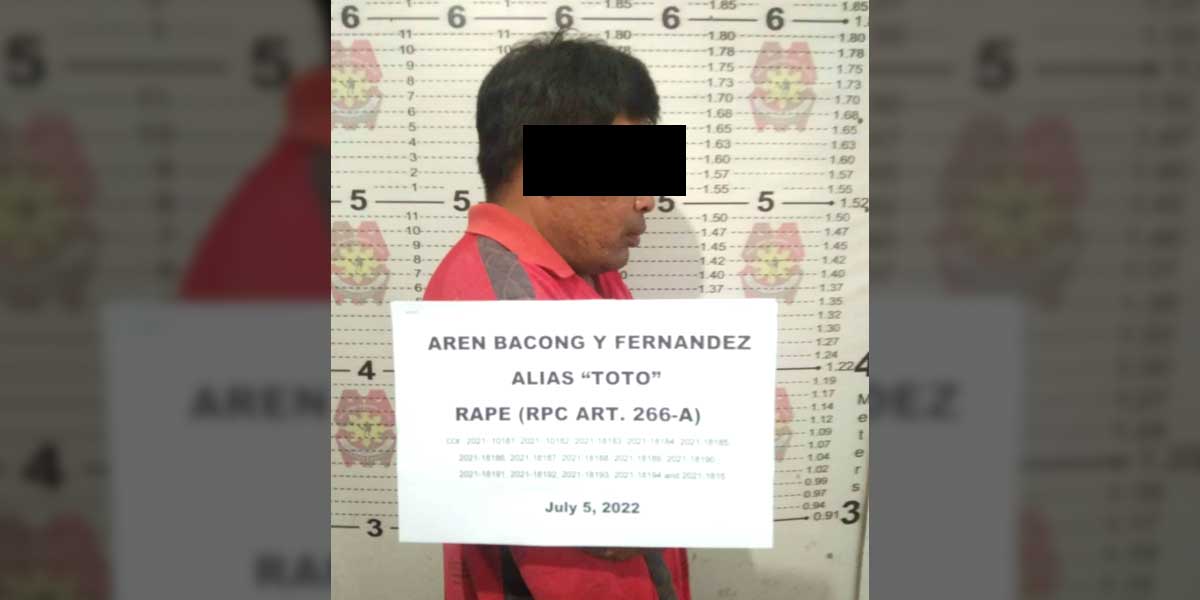 By Jennifer P. Rendon
A fisherman considered as one of Iloilo province's most wanted persons was arrested morning of July 5, 2022 in Banate, Iloilo.
Aren Bacong, 45, a resident of Barangay Sua, San Dionisio, Iloilo had been in hiding since he was hauled to court in 2020.
Personnel of San Dionisio Police Station, together with operatives of the Iloilo Police Provincial Office-Special Operations Group (IPPO-SOG) Team 3, the 2nd Iloilo Provincial Mobile Force Company, Ajuy Police Station, Barotac Viejo PNP, and Banate PNP, served the arrest warrant against Bacong at Barangay Poblacion, Banate.
The suspect is facing 15 counts of rape under Article 266-A of the Revised Penal Code docketed as Criminal Case Numbers 2021-10181 to 2021-18194 and 2021-1815.
Article 266-A of the Revised Penal Code states that rape is committed even without the presence of elements of force, threat, intimidation, or fraudulent machinations, as long as the victim is under the age of 12 or is demented.
Judge Mauricio Gomez of the Regional Trial Court Branch 71 in Barotac Viejo, Iloilo issued the arrest warrant on Nov. 21, 2021.
No bail was recommended for Bacong's temporary liberty.
Lieutenant Soviet Torre, San Dionisio police chief, said that the suspect did not resist when police personnel served his arrest warrant.
Reports claimed that Bacong raped a girl who was related to him by affinity.
No other information was released relative to the case.
Bacong is now detained for proper disposition of his case.