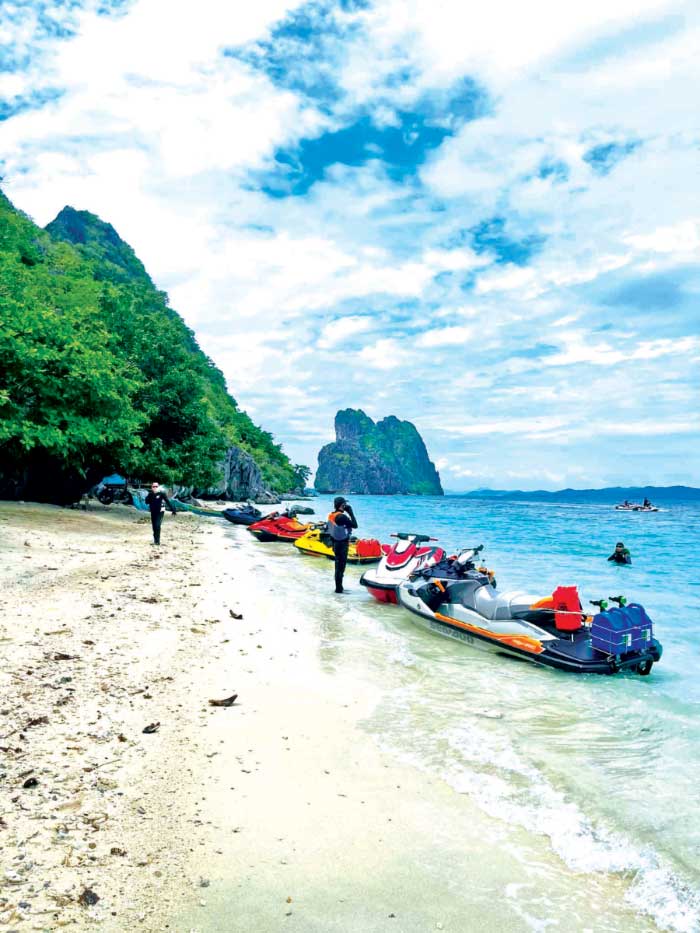 By Joseph B.A. Marzan
A watercraft group based in Iloilo City came under public fire over the weekend after it was reported that they had been riding jet skis without proper permits inside a protected area in El Nido, Palawan.
A post in a private Facebook group of locals and expatriates residing in El Nido named 'El Nido Eel' claimed that members of the Iloilo Watercraft Association (IWA) had been jet skiing around several islands in the town as well as the neighboring towns of Taytay and Linapacan.
These include Imorigue Island, Kandungan Island, Snake Island, Matinloc Island, and in several areas, which are said to be part of the the El Nido-Taytay Managed Resource Protected Area (ETMRPA).
Biodiversity Management Bureau (BMB) data indicated that the ETMRPA covers 38,420 hectares of land area and 53,330 hectares of water area.
The United Nations Educational, Scientific, and Cultural Organization (UNESCO) World Heritage Convention's website describes the area as home to various animal species including dugongs, dolphins, marine turtles, and coral reef fishes, the Malayan Pangolin, and threatened endemic bird species such as the Palawan Peacock Pheasant, the Palawan Hornbill, and Palawan Scops Owl.
The ETMRPA started as a Marine Turtle Sanctuary via Ministry of Natural Resources Administrative Order No. 518 series of 1984.
This was later expanded through amendments provided via Department of Environment and Natural Resources (DENR) Administrative Orders Nos. 1991-14 and 1992-04.
Its status as a protected area was through designation via Proclamation No. 32 series of 1998 issued by then-President Joseph Estrada and was included in 8 protected areas under the National Integrated Protected Areas Programme supported by the European Union.
IWA members were also spotted at the 46-hectare Pangatalan Island Marine Protected Area in Taytay, which was created and remains to be maintained by the private Sulubaai Environmental Foundation in partnership with the local government unit.
Section 20(g) of Republic Act No. 7856 (National Integrated Protected Areas System of NIPAS Act of 1992), as amended by Rep. Act No. 11038 (Expanded NIPAS Act of 2018), prohibits the operation of "motorized" conveyance in protected areas without a permit from the Protected Area Management Board (PAMB).
The private Facebook post alleged that IWA members invoked Palawan 1st district Representative Edgardo Salvame's name whenever they were being asked questions about their presence there.
It also stated that they had already been told by the ETMRPA's Protected Area Management Office (PAMO) on June 7 that jet skis were not allowed, but this was before they were spotted in Kandungan and Snake Islands.
El Nido diver Mariel Ferrer told local media outlet Palawan News that the IWA group had disturbed other tourists, who were either in their boats or swimming in the waters, with the noise and smell of petroleum coming from the jet skis.
An online petition has garnered almost 200 signatures, urging immediate action from the local and provincial governments, the Philippine Coast Guard stations in El Nido and Taytay towns, the office of Rep. Salvame, and the Philippine National Police.
"The group of IWA started their expedition in the Municipality of Taytay and continued in the El Nido where they stayed the longest.  Their big trailer and their jetskis would have alerted anyone with eyes and would ask the question: WHY ARE THEY HERE?" the online petition read.
"For sure the Coast Guard have seen them. The PNP or the Tourist Police have seen them. And the LGU would have seen them. We have seen them.  They were not necessarily hiding.  They were loud and proud and confident that what they did was allowed. We have seen them and we know they are not allowed to do what they did," it added.
IWA's Facebook page on June 5 indicated that they had conducted a medical mission at Calibangbangan Island in Linapacan town.
Another post prior to this pointed to a 10-day expedition in groups of islands, as well as traveling to other tourist spots on land, located within the three towns.
The group's founder, Vincent Tajanlangit, thanked a certain 'Conchita Salvame', whose connection to the district representative remains unclear, but his Facebook page has indicated her as a frequent commenter on his posts.
"[The 16th-century] fortress, Sta. Isabela, [Taytay], El Nido, Palawan. [Beautiful] town, nice [people], overwhelming [hospitality], and waypoint marked for a comeback. Thank you very much Conchita Salvame for your extended powers," Tajanlangit said in his post.
Daily Guardian reached out to Tajanlangit, who said that they would only be providing feedback "after regrouping", while El Nido town mayor Edna Lim has not yet responded as of this writing.