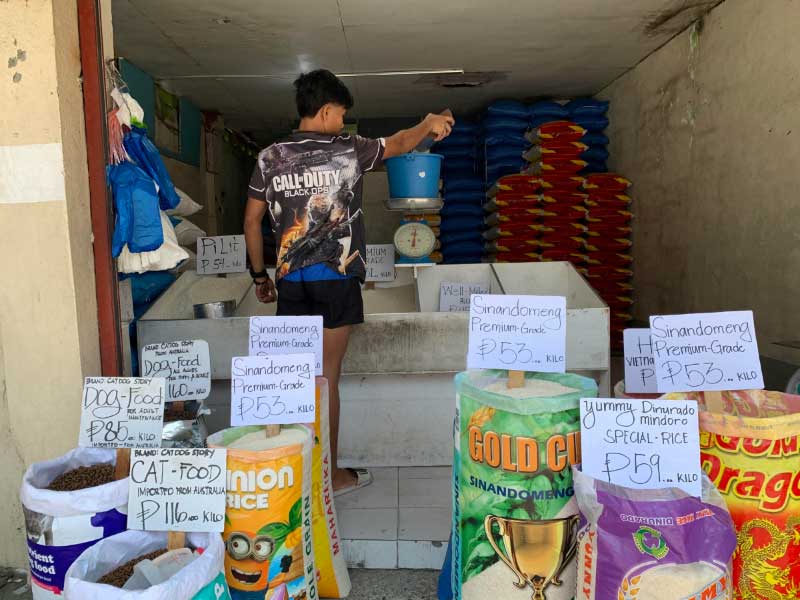 By Rjay Zuriaga Castor and Mariela Angella Oladive
Nearly a month after its implementation, Ilonggos welcomed the move of President Ferdinand "Bongbong" Marcos Jr. to lift Executive Order No. 39, which had imposed price caps on regular milled rice at P41 per kilogram and well-milled rice at P45 per kilogram.
National Economic and Development Authority-Western Visayas (NEDA-6) director explained that one of the reasons for lifting the mandatory price ceiling is the increase in rice production in the country.
"Given the increased production, the government deems it fit to eliminate the price cap. There is no need now to control the price of rice so let's have market forces know its job," he said.
The NEDA-6 director further pointed out that both consumers and producers will benefit from the removal of the price cap, as it allows regular market forces to dictate the price of the staple food.
"In essence, capping implies [that the prices of product] would translate to regular market forces… This benefits our consumers in essence because we will be assured of a lower price of rice," he added.
Marcos' announcement came a day after a sectoral meeting with officials from the Department of Agriculture (DA) and the Department of Trade and Industry (DTI), who had proposed indicators that the government can already lift the price cap.
Among the indicators are the decreasing prices in the global and domestic markets and the expected increase in the supply of the food commodity with the looming harvest season starting in October.
Iloilo City Mayor Jerry Trenas also welcomed the removal of the rice price cap, saying, "Now that there is no more price cap the prices will be based on market forces."
Meanwhile, Iloilo Governor Arthur Defensor Jr. said the removal of the price cap means that the harvest season is in full swing and the rice supply has already stabilized.
"It is good that the price cap [has already been lifted]. It only means one thing, nga full swing na ang harvest kag nag recover na ang supply. Buot silingon, ang dynamics natun sa rice industry naghulag na, so much that we don't need the price ceiling anymore," he said.
"Maayo gid nga lifted na siya because whatever problem nga ara has already been addressed," he added, emphasizing that it is best if the selling of rice is "market-driven".
Retailers in the city's wet markets also appreciated the removal of the price ceiling, as it eased their burden. However, they pointed out that they have not yet received the one-time cash grant of P15,000.
"Apektado kon sa apektado lang, kami ya ang pinakalolooy gid nga mga retailer. Pero maayo man kay gin dula na ang price ceiling," one retailer said.
Meanwhile, Novy has expressed her frustration and disappointment because she complied with the mandated prices during the price cap implementation.
"Wala man kami ya matagaan sang ayuda nga ginahambal ni Presidente. Kay kuno 50% gid natagaan na, pero wala. Pila lang drii sa Lapaz ang nakabaton," she said.
Another retailer from Lapaz Public Market shared that they are still waiting to receive the subsidy.
"Ngaa waay man kami nila gintagaan sang ila gintug-an nga gaan kami sang subsidy. Ti mga lift lift nga na waay gid, amo man na sa gihapon," she said.
She added that they also complied and lost their income during the implementation of the price cap but no assistance has been extended to them.
"Hambal tagaan kami sang gobyerno, wala man kami ya katilaw. Gapaabot-abot kami, wala man," she said.
As of September 30, the Department of Social Welfare and Development Field Office VI (DSWD-6) has released a P37.5 million subsidy to rice retailers affected by the price ceiling.
The DSWD-6 said it has disbursed cash assistance to 2,504 micro rice retailers and sari-sari store owners identified by the DTI-6.