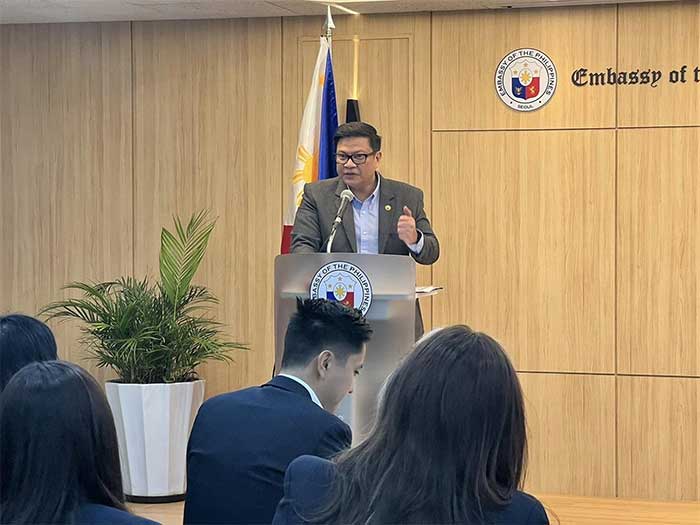 House Majority Leader Mannix Dalipe today made a statement regarding the circulating rumors about an alleged plan to file an impeachment complaint against Vice President Sara Duterte, strongly dismissing these rumors as baseless and detrimental to political unity.
Leader Dalipe emphasized that the speculation of House Leaders planning to impeach the Vice President is unfounded. He stressed that such rumors are mere attempts to sow discord between Vice President Sara Duterte and Speaker Martin Romualdez, and there is no truth in them.
The Majority Leader also addressed the rumors surrounding Speaker Martin Romualdez's supposed presidential aspirations for 2028. He clarified that Speaker Romualdez is currently dedicated to advancing legislation in support of President Bongbong Marcos' agenda to improve the lives of Filipinos, and no decision has been made regarding a presidential bid.
Responding to claims that Speaker Romualdez is undermining VP Sara due to potential competition in the 2028 elections, Dalipe stated that these rumors are without merit. He reassured that Speaker Romualdez has always shown respect towards the Vice President and such derogatory tactics are not part of his approach and his character.
Dalipe further explained the stringent requirements for filing an impeachment complaint in Congress. He highlighted that any complaint must be supported by substantial evidence and justifiable reasons, in line with the constitutional process.
Reminding the public of the role of Congress in impeachment proceedings, Dalipe noted that while any Filipino citizen has the right to file a complaint, the process is rigorous and requires significant evidence for it to be considered by Congress.
Concluding his statement, Leader Dalipe offered reassurance to supporters of Vice President Sara Duterte. He affirmed that if she has not committed any wrongdoing, there is no reason for concern about these baseless rumors. He called for adherence to truth and transparency in politics and urged the public to refrain from spreading rumors that could harm the democratic process and the unity of the nation's leaders.