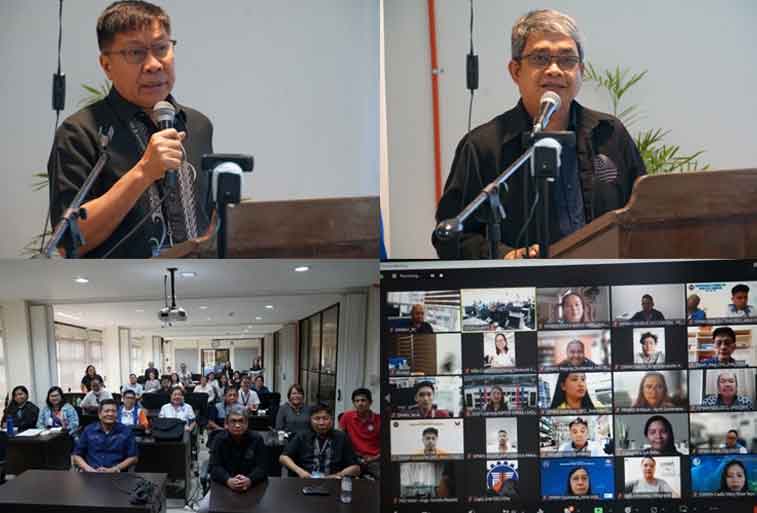 The Department of Environment and Natural Resources (DENR) in Region 6 aims to involve Local Government Units (LGUs) and other government agencies as well as the concerned stakeholders in every undertaking of the Department.
To have a wider scope of partners for environmental protection, the DENR 6 Licenses, Patents, and Deeds Division (LPDD) through its Water Resource Utilization Section (WRUS) invited Information Officers (IOs) from the Provincial and Community ENR Offices across the region to the blended (face-to-face and virtual) Information, Education and Communication (IEC) Campaign on the "Salient Features of the Water Code of the Philippines" PD 1067 held at DENR 6 Activity Center last August 24, 2023.
"In today's generation the Department and the people need to work hand-in-hand to promote water security and by doing so, we need to evaluate and disseminate our knowledge to them. Water is very important in our lives –for water security (drinking and domestic use), energy (hydropower), food security (irrigation) and many more, that's why the DENR Region 6 is asking for your cooperation to give the public ideas in preserving, protecting, and conserving our precious water," DENR 6 RED Livino B. Duran said.
The activity was also participated by representative from the Department of Public Works and Highways (DPWH), Department of Agriculture (DA), Provincial Government of Iloilo- Provincial Planning and Development Office (PPDO) and technical staff from the DENR line bureaus – Environmental Management Bureau (EMB) and Mines and Geosciences Bureau (MGB).
Water Code of the Philippines and its Implementing Rules and Regulations (IRR) was presented by LPDD Chief, Atty. Elizur G. Militar, where he expounded the provisions in the Water Code, its objectives, principles and water rights and permits.
Other topics during the program were the different Water Permit Application Requirements per NWRB Resolution No. 09-0916 dated September 21, 2016 presented by Engr. Segundino D. Celeste, Jr., other requirements for areas within Protected Areas presented by For. Kimberly P. Habana, and areas within Forestlands presented by Forester Mercedita G. Lastica. (DENR-6)