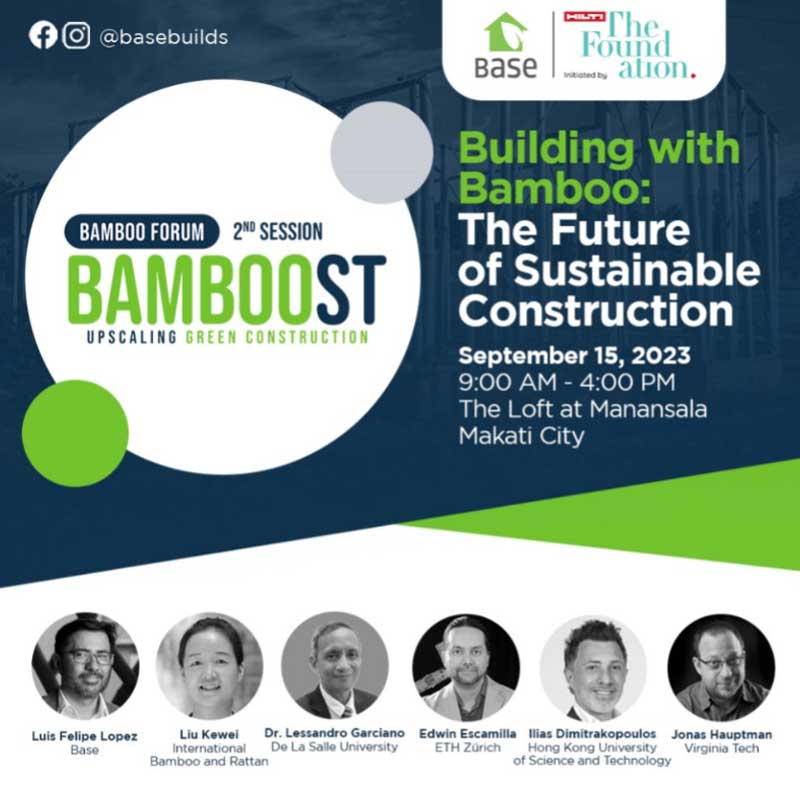 In celebration of National Bamboo Month, Base Bahay Foundation (Base), the global leader in bamboo-based research and technology and pioneer in Bamboo Construction, has assembled a respected lineup of international bamboo experts to speak on "Building with Bamboo: the Future of Sustainable Construction" at the second annual Bamboost, a bamboo forum slated on September 15 at the Loft at Manansala in Rockwell Center, Makati City.
Registration is now open for Bamboost which is free of charge for all professional architects, civil engineers, students, researchers, developers, and bamboo enthusiasts by clicking the online registration link posted on BASE social media accounts. As a program accredited by the Professional Regulations Commission (PRC), professional architects and civil engineers will earn 4.0 and 2.5 CPD units respectively towards their continued professional learning and development.
Luis Lopez, Base Head of Technology, leads an international roster of speakers on sustainable construction with bamboo that includes Jonas Hauptman who co-leads the VT BioDesign Research Group and is an Associate Professor of Industrial Design at Virginia Tech, United States; Dr. Edwin Escamilla, Chair for Sustainable Construction with ETH Zurich; Ilias Dimitrakopolous, Assistant Professor with the Department of Civil and Environmental Engineering in  Hong Kong University of Science and Technology (HKUST);   Liu Kewei, Global Bamboo Construction Programme Coordinator of International Bamboo and Rattan Organisation (INBAR); and Dr. Lessandro Garciano, Associate Professor in Civil Engineering at De La Salle University Manila.
At the forum, participants will have access to the latest research and innovations in bamboo connection performance, life cycle assessment, and design.
Explains Luis Lopez, who in his role as Base Head of Technology oversees research, training, and application of BASE's Cement-Bamboo Frame Technology in the Philippines: "As building material, Bamboo has high compressive strength and low weight and is thus one of the most used building materials as support for concrete, especially in those locations where it is found in abundance. Research on Bamboo as a sustainable construction material is ongoing at our Base Innovation Center in Makati in partnership with local and international universities and research institutions.  We also continue to work with the Association of Structural Engineers of the Philippines (ASEP) to bring bamboo into the National Structural Code of the Philippines."
"A product of our research is BASE's proprietary Cement-Bamboo Frame Technology (CBFT) which has been used in the construction of over 1,500 sustainable and disaster-resilient homes in 15 communities across the Philippines and 4 in Nepal, built together with our corporate and NGO partners. It continues to undergo multiple tests at the Base Innovation Center such as in material, connection, and system to prove its reliability as building technology," Lopez adds.
"Most importantly, CBFT is a holistic approach to building disaster-resilient and sustainable structures while providing livelihood to communities," says Pablo Jorillo, Base General Manager.  "As more of our professional builders opt to use bamboo in construction, we are helping to build a circular economy – from the farmers who harvest and individuals who process bamboo to builders engaged in construction. With our initiatives, we are committed to bringing a positive impact on the lives of every family and supporting the community sustainably."
The annual Bamboost is part of BASE's learning series for bamboo construction enthusiasts.  BASE conducts free training programs for professional builders such as architects and civil engineers under its Continuing Professional Development (CPD) learning series to give them a head start in anticipation of the standardization of bamboo construction and design and mainstreaming of bamboo in building codes.
An initiative of Liechtenstein-based Hilti Foundation, BASE continues to provide alternative building technologies to enable a network of partners to build quality socialized homes that are comfortable, affordable, disaster resilient, ecologically friendly, and with social impact.  To date, Base has built more than 1,500 homes using its proprietary Cement-Bamboo Frame Technology sheltering over 5,500 individuals in 19 communities across the Philippines and in Nepal.
For more information on Base Bahay Foundation Inc., its Continuing Professional Development (CPD) series and ongoing projects, visit http://www.base-builds.com.