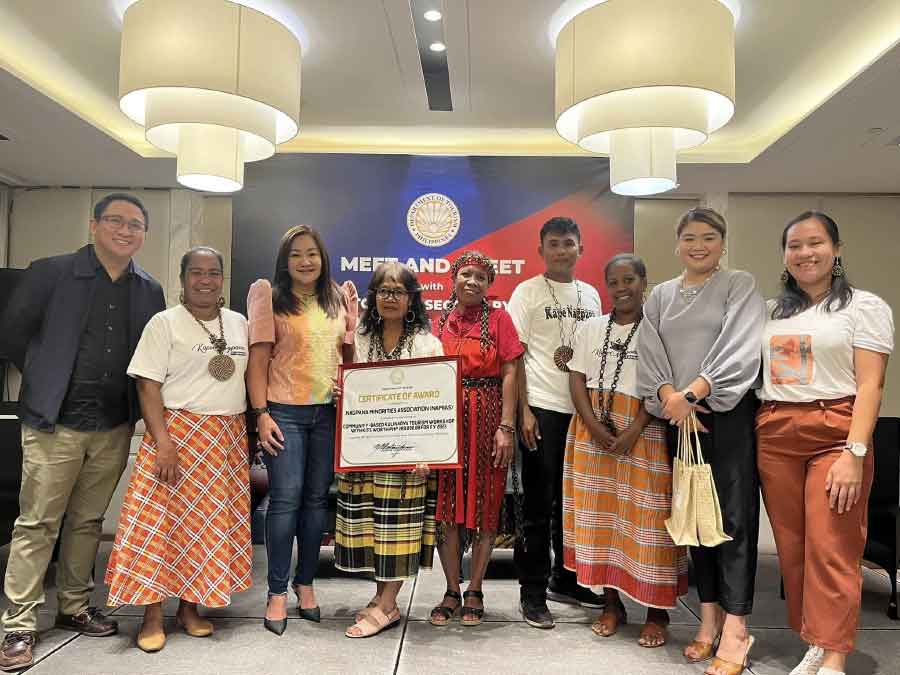 By John Noel E. Herrera
An Indigenous People (IP) community in Iloilo province has been chosen to be a recipient of the Department of Tourism's (DOT's) skills program that will enhance their skills in tourism management.
On Sunday, June 18, 2023, DOT undersecretary Atty. Mae Elaine T. Bathan awarded the citation to the Nagpana Minorities Association (NAMIAS) of Barotac Viejo that will provide them with culinary starter kits and necessary training worth P200,000 under the agency's Tourism Industry Skills Program Assistance in Development Initiative (TISP-AID) for community-based tourism organizations.
Bathan said that the program is one way for the agency to show support, not just to the major stakeholders of tourism in the country, but also to those at the grassroots level that play a significant role in the recovery and sustainability of the industry.
"We would want everybody's lives to progress. We would wish for nobody to be left behind as we move forward in reaching our objectives. We see an importance to give value and aid assistance, skills and training, as well as opportunities not only to our stakeholders, but to our community-based tourism organizations," Bathan stressed.
"With the skills and training program provided to the IP community, we would be able to provide them with additional opportunities and markets by which we can take advantage of the growing and flourishing tourism industry in Iloilo, specifically in Barotac Viejo," she added.
NAMIAS President Raquel Mateo noted that being a beneficiary of the program shows how the agency values them and their roles in promoting local tourism, which also strengthens their cultural identity as an IP community.
"Kami nga mga ati nagahandom sang bwas damlag para sa amon tribu pinaagi sa pagtatap kag pasandyog sang amon kultura kag kumunidad pinaagi sa turismo. Ginakalipay kag ginapasalamatan ko gid sang dako sa paghatag importansya sa amon nga makita ang binuhatan kag mabatyagan ang amon kaisog bilang mga ati para mapasanyog ang turismo sa Barotac Viejo," Mateo said.
Bathan, who was in Iloilo City for the launching of the "Bisita, Be My Guest" travel campaign and the three-day Central Philippine Tourism Expo (CPTEx), underscored the role of tourism as a major driver for the country's economic recovery.
She stressed that for the country to recover and be known as a "tourism powerhouse in Asia", the government should align their plans and programs "towards creating not just a beautiful package to market the Philippines, but more importantly one that will showcase the Filipino brand."
"When you talk about the Filipino brand, it does not only talk about the beautiful sites and sceneries, but more about the warmth and hospitality that is distinctly Filipino," she said, noting that the public should see the value and importance of the tourism value chain, beginning not only with the stakeholders, but down to the last person who makes up the tourism industry.