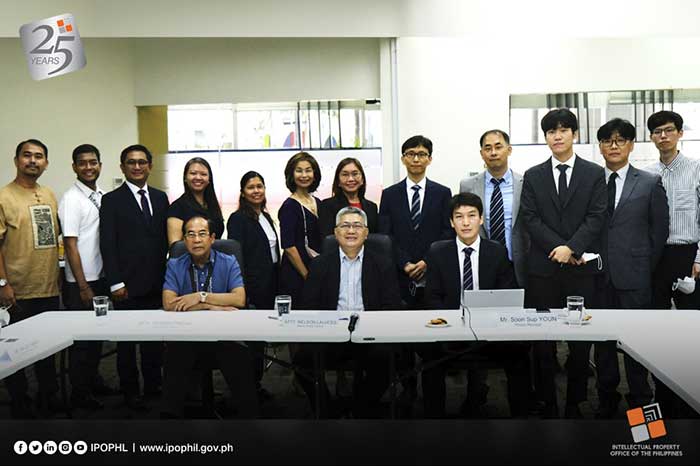 The Intellectual Property Office of the Philippines' (IPOPHL) has taken part in an in-depth study launched by the Korean Institute of Patent Information (KIPI) in a bid to further automate IPOPHL services.
The study will result in recommendations for a medium to long term strategy for IPOPHL to automate identified processes.
"We are happy to see that our efforts to make our services more accessible are bringing international interest into our IP infrastructure and processes. This is an opportunity for IPOPHL to see our current system from a broader strategic perspective and empower our bureaus to improve the ease of doing business," Barba added.
KIPI's International Cooperation Team (KIPI-ICT) visited IPOPHL at its Taguig headquarters from June 20 to June 23 to establish a baseline knowledge of IPOPHL systems and identify challenges which could be addressed by KIPI's suite of automation solutions.
IPOPHL's bureaus presented the most critical aspects of their internal processes and external services—from search systems, online marketing strategies and ongoing innovations in its information and communications technology infrastructure to filing services, customer support and IP databases.
The KIPI's ICT is composed of IP systems researchers who visit IP offices in different countries to offer consulting collaborations. The group has conducted consultations in over 21 countries since 2013.
"The consulting projects are mainly knowledge-sharing. We visit different IP offices to share our experiences, while also getting the proponent countries' know-how on their own IP systems," said KIPI-ICT Project Manager Soon Sup Youn.
Two notable consulting projects of KIPI were with the United Arab Emirates (UAE) from 2016 to 2019 and Paraguay from 2019 to 2021 which resulted in the further delivery of their IP services.
"We remain committed to creating a close and consistent cooperation during the duration of our consultation and implementation periods, which is why we have seen the impressive success of both countries in adapting our IP systems," Youn added.
"We also look into developing IP automation projects and their alignment with the country's current system," Youn added.
Some existing KIPI solutions being explored are a centralized platform for searching all types of IP and an IP data distribution platform that could allow IPOPHL's seamless data sharing with local and international partners.
The newest partnership with KIPI contributes to IPOPHL's implementation of its six-point BRIGHT Agenda, according to Barba.
"Our BRIGHT Agenda highlights how integral partnership-building is in future-proofing the agency's services, especially as we aim to continue helping stakeholders to maximize the IP system for their recovery from the pandemic," Barba.
The consulting project on IP automation between IPOPHL and KIPI will conclude in November 2022 and could result in a deeper collaboration with the Korean government in the future.
An affiliated public institute founded by the Korean IP Office (KIPO), KIPI was also represented by Researchers Seung Sook Lee, Hyuk Jun Lee and Jong Hyun Lee and Assistant Researcher Ki Suk Jung.
The KIPO is a partner of IPOPHL in its Patent Prosecution Highway Program and several business seminar activities in the past.