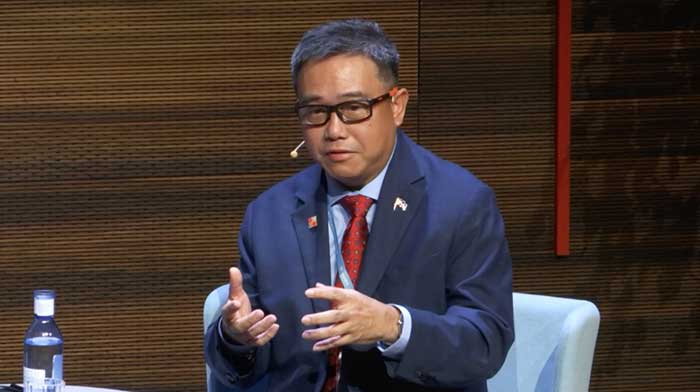 The Intellectual Property Office of the Philippines (IPOPHL) said it will beef up its mediation unit next year as it aims to further promote mediation as an intellectual property (IP) dispute settlement mode beneficial to all parties.
IPOPHL Director General Rowel S. Barba shared these plans at a panel during the IP Mediation Conference 2023 held by the European Union IP Office on Oct. 19 – 20, 2023 at its headquarters in Alicante, Spain.
At the panel, which dove deep into the pros and cons of mediation models, particularly voluntary and mandatory mediation, Barba shared the benefits of mandatory mediation and the Office's plans to improve it.
To recall, IPOPHL launched its mandatory mediation model in October 2019, seeing the benefits of lower costs to parties compared to litigation in the courts, the shorter time to arrive at resolution and the possibility of turning competitors into allies through amicable negotiations.
"In voluntary mediation, once parties refuse to participate, they move on to the next phase which is litigation or adjudication. It fails to consider those cases that could have been successfully mediated given the right mediator or a bit of encouragement. What makes mandatory mediation appealing is that the parties are given an opportunity to discuss the IP issue or matter outside of its legal aspects," Barba said, adding that the average annual cases settled at IPOPHL has increased from 54 to nearly 60 a year.
But challenges remain as the influx of cases going through mandatory mediation has urged the employment of more people at the mediation front.
"Under voluntary mediation, only 115 cases were being handled annually by our Alternative Dispute Resolution (ADR) unit. Under mandatory mediation, there are an average of 226 cases every year. We were able to address this challenge by having an effective ADR unit which ensures that the process proceeds smoothly but we may need to refresh and expand the current roster of mediators," Barba said, noting the annual dispute settlement rate averaged nearly 30% from 2020 to 2022 when mandatory mediation was already in place.
To improve settlement rates, he shared that IPOPHL is currently looking to accredit more mediators who are well-versed in the latest trends and technologies that could be of concern in future IP disputes.
Last August IPOPHL conducted the five-day 2023 IP Mediation Accreditation Course. The learning event gathered over 40 practicing and aspiring mediators who gained theoretical, practical and ethical knowledge and skills, as well as emerging trends, crucial to settling complex IP disputes and having higher chances of securing accreditation at IPOPHL.
"Hopefully, having more skilled mediators will alleviate the caseload of each of our current mediators and create a positive impact in positioning mediation as the way to go for settling IP disputes effectively," Barba added. (Janina Lim/IPOPHL)