Bord Bia, the Irish Food Board, launches its fifth trade mission to South East Asia, focusing on key markets in Malaysia and the Philippines.
The 2023 South East Asia trade mission aims to strengthen Ireland's reputation for providing sustainable, safe, and high-quality food and drink in the region.
The Ministerial delegation led by Irish Minister of State for Research and Development, Farm Safety and New Market Development, Martin Heydon T.D.; will visit Kuala Lumpur, Malaysia on November 5th and Manila, Philippines on November 7th. Exports are already up 25% to €394 million demonstrating Irish suppliers' resilience in boosting supply chains and maintaining profit margins despite prevailing challenges.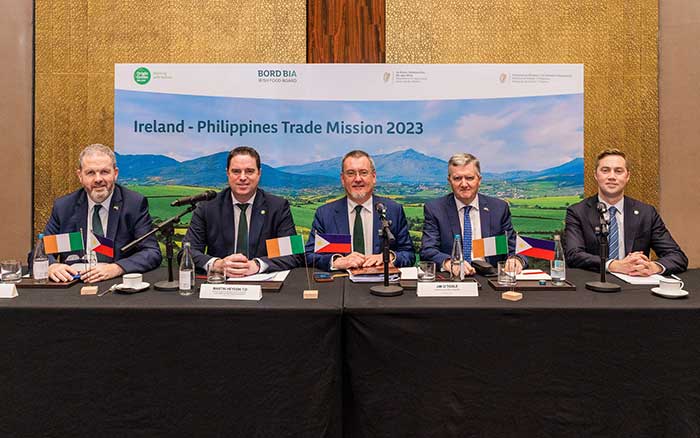 Globally, Irish food and drink exports achieved remarkable growth in the past year to a record-breaking €16.7 billion despite global challenges. Notable global increases were seen in sectors such as Beef (9%) and Dairy (5%) which contributed to this growth. A key performer was Irish dairy exports, which alone were valued at €6.8 billion in 2022, representing a 33% year-on-year increase.
South East Asia Export Performance in 2022
Ireland's export priority markets within South East Asia are Malaysia, Philippines, Singapore, Indonesia, Thailand and Vietnam.
In 2022, Irish exports to Asia exceeded €1.4 billion, with South East Asia contributing over €394 million to this figure —which is 27% of Asia's overall performance.
During the 2023 Trade Mission, Minister Heydon is confident that "The Trade Mission will raise awareness of Ireland's sustainable food production systems and our commitment to supporting business-to-business relationships which can make a real difference to Irish food and drink exporters. I look forward to building on the strong government-to-government relationships we have during my meetings with my counterparts in the Philippines and to promoting Ireland's high-quality food offering in this valuable market."
To further strengthen bilateral trade and build on existing trade relations and export opportunities in the region, Minister Heydon will be meeting with the Senior Minister of Agriculture in Malaysia, and the Senior Minister of Trade in the Philippines.
Spotlight on MY and PH's Dairy Exports  
There has been a 48% increase in Irish dairy exports to Asia so far in 2023, largely driven by the Philippines and Malaysia—A key driver to further leverage on opportunities via 2023's trade mission.
Bord Bia CEO Jim O'Toole said "This trade mission marks the start of an intensified programme of activity undertaken by Bord Bia to promote Irish food products and their producers to local partners who place a value on high-quality food products. I look forward to setting out Ireland's commitment to sustainable food production and our ambition for Ireland to be a world leader in Sustainable Food Systems, encompassing sustainability in all its dimensions – environmental, social and economic. Our ambition is to build further on the strong trading relationship Ireland has with our customers in the Philippines and trade missions such as this are a valuable means of raising the profile of Ireland as a food-producing nation and unlocking commercial opportunities for Irish food and drink companies."  He further added, "We are committed to developing durable business relationships with our customers here in the Philippines".
In 2022, Irish exports to Southeast Asia were valued at an estimated €394 million, led primarily by dairy powders as ingredients for further manufacturing. Mr O'Toole said that one of Bord Bia's global strategic priorities is to uncover innovative value-add opportunities for the Irish dairy sector in global markets He said: "Asia has been the centre of Irish food and drink export growth efforts in recent years. In the last three years. Irish dairy exports to this region have jumped by almost 12%, and there is significant potential for further growth for Irish dairy exporters because these countries have low levels of domestic dairy production. To meet the growing middle class, Origin Green-verified dairy exporters are well positioned to supply ingredients to manufacturers producing western style bakery, functional drinks and other consumer products."
As part of the trade mission, Bord Bia has announced its appointment of Lisa Phelan[1] to the role of South East Asia Manager.
Lisa joins Bord Bia's Global Business Development team based in Bord Bia's Singapore office, where she will be responsible for leading global business initiatives in the priority markets of South East Asia and Oceania.  In her new role as South East Asia Manager, Lisa will lead on regional customer engagement and work cross-functionally with colleagues to design and execute Bord Bia's strategy across Australia, Indonesia, Malaysia, New Zealand, the Philippines, Singapore, Thailand and Vietnam.
In 2016, Bord Bia established its South East Asia office in Singapore and has recently expanded its team. Lisa Phelan emphasised that "Dairy is Ireland's top export to South East Asia and the region holds strong potential for premium dairy sales with steadily rising consumption. By 2050, 20% of the SEA population will be elderly, increasing demand for adult dairy nutrition as highlighted in Bord Bia's Future of Dairy in South East Asia report."
Shane Hamill, Bord Bia's Global Business Development Director, said: "Lisa brings to the role a wealth of food industry knowledge and regional experience, at a time when there is a growing focus on safe and sustainably produced food and drink amongst our international customers and consumers. She will also leverage Ireland's national sustainability programme, Origin Green, in customer interactions, to safeguard Ireland's global reputation and competitive advantage as a producer of quality sustainable food."
South East Asia Market Overview and Growth Potential
The South East Asia market is poised for substantial growth, driven by increasing population, rising incomes, and a growing middle class. Key macro-trends that could contribute to this growth include GDP growth, a transitioning middle class, and increased spending on food, particularly on healthier and sustainable options.
Evolving consumer behaviours, opportunities for new products, Halal-certified products, and sustainability are also key drivers shaping the South East Asian food and dairy markets. While existing Irish brands do have a significant presence in the Philippines and Malaysia —primarily in the dairy and meat sectors —In both of these markets Bord Bia will continue to put significant efforts towards expanding Irish dairy and meat supply chains.
Irish Food and Drink Exports to the Philippines
The primary Irish export sectors to the Philippines are dairy (€72 million), beef (€49 million), pigmeat (€24 million), drinks (€1.5 million), sheepmeat (€701,084), and seafood (€91,000).
In 2022, Ireland experienced substantial growth in exports to the Philippines, with dairy exports increasing by 107% to €72 million, beef exports growing by 91.4%, and pigmeat exports rising by 71.4%. In 2023 Irish brands Tirlan and Lakeland were launched for retail sales during Bord Bia's Fifth Trade Mission.
Over the five years leading to 2022, exports in various categories saw remarkable growth, including a 283% increase in dairy, a 207% increase in beef, and a 205% increase in pigmeat exports. Key drivers of value and volume growth in these markets include infant food, buttermilk, SMP, beef offal, ham, and pig offal. The Philippines is the largest market for Irish beef outside of Ireland.
Irish seafood exports to the Philippines, while growing steadily, remain relatively small compared to other markets, with a 242% increase over five years primarily driven by shellfish exports.
Exports of Irish drinks to the Philippines also increased significantly by 215% in 2022, driven by whiskey and liqueur exports.
Major Irish dairy and meat processors, including Tirlan, Kerry, Carbery, Dairygold, Lakeland, ABP, Kepak, Dawn Meats, and Rosderra, are active in the Philippines market through partnerships with local trading houses and importers. Among these, Tirlan and Lakeland will soon be establishing a retail presence with their dairy products. Kepak, which is among Ireland's leading meat producers, has an established presence with full-time employees in the market.
Two of Ireland's leading dairy processors, Tirlán and Lakeland Dairies, have signed agreements with dairy distributors in Manila during the trade mission, to supply Irish cream and butter to the Philippine market. Lakeland Dairies will supply cream under its Millac Gold brand, while Tirlán will supply Avonmore cream and butter.
Overall, Irish food and drink exports to the Philippines have shown impressive growth, particularly in dairy, beef, and pigmeat, reflecting the increasing demand for these products in the region.