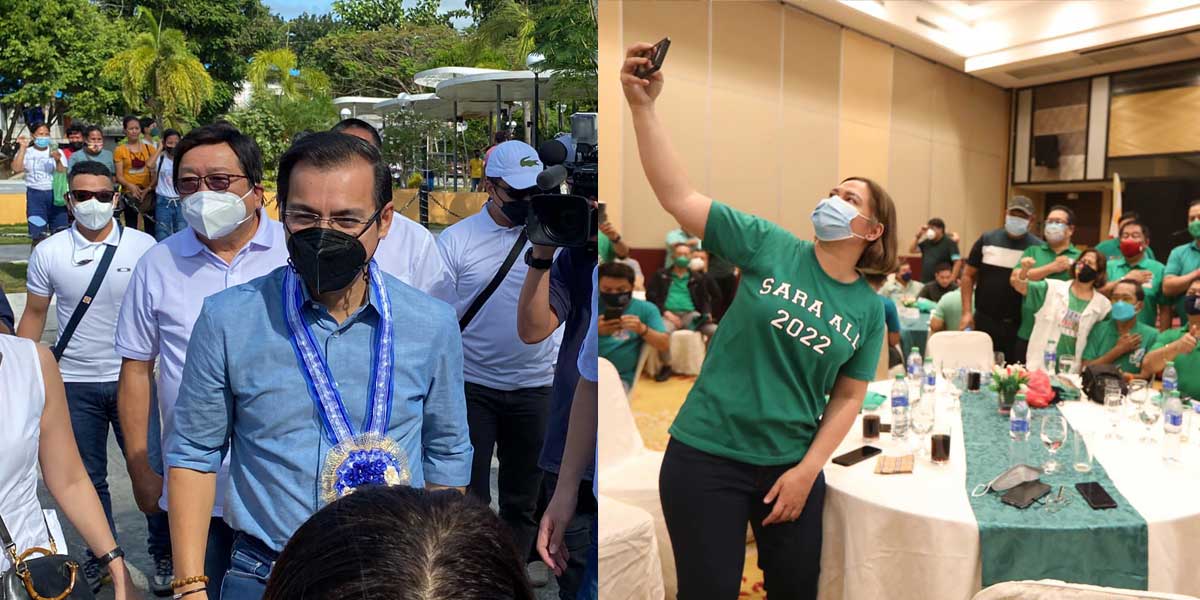 By Jennifer P. Rendon and Joseph B.A. Marzan
Sans the usual election campaign fanfare, presidential aspirant Manila City Mayor Francisco "Isko Moreno" Domagoso and his party trooped to Iloilo province on Tuesday in the first leg of their Western Visayas tour.
There were no balloons, sea of crowd, and a massive venue to welcome Domagoso.
And it seems that Domagoso did not need the pomp and pageantry to get the attention of voters in San Joaquin, a town more than 50 kilometers from the capital Iloilo City.
After all, he met with people whom he considered as relatives.
Domagoso took his Listening Tour to Sitio Liit, Barangay Purok to attend the Domagoso-Sandoy Family reunion and meet his paternal relatives.
There was not much talk of politics, but Domagoso's banter centered on how proud he was of his Ilonggo father.
NOT A RARE SPECIES
San Joaquin is the birthplace of Domagoso's father, Joaquin, who in his youth went to Hamtic, Antique and later tried his luck in Manila in the 1960s and worked as a stevedore in the ports of Manila.
In the slums of Tondo, Manila, Joaquin Domagoso would later meet and fall in love with Rosario "Chayong" Moreno, a native of Allen, Northern Samar, who bore him a son they named Francisco Moreno Domagoso.
Domagoso said he is very happy that after spending all his life in Tondo thinking he was the only Domagoso in the area, he was able to return to his roots.
The Sandoys are the offsprings of his father's sister who remained in San Joaquin.
"Masaya ako dahil for the first time, nakita ko na kung anong uri ng kapaligiran ang lugar ng kapanganakan ng tatay ko. Ngayon hindi na ako rare species. Sa Tondo nag-iisa lang ako. At least totoo pala, marami pala kami, mga Sandoy, Domagoso. Hindi ako rare species," Domagoso told to a crowd of about 200 persons comprised mostly of his relatives.
"Ulilang-ulila ang pakiramdam ko, pero ngayon parang ang laki ng pamilya ko," Moreno said.
The Aksyon Demokratiko standard bearer said he made it through life despite his humble beginnings.
Domagoso credited his father for teaching him the value of hard work, persistence, and uprightness, qualities that brought him success in life, both as a fledgling actor and later on as councilor, vice mayor, and now mayor of Manila.
Domagoso recounted how his father always went to the pier to look for work even if he was not on duty, always hoping that he will be noticed and given work so he can provide for his family.
"Pag walang duty, pupunta sa pier nagbabakasakali baka matawag. Dun ko narinig sa kanya yung 'huwag kang humilata dyan, paggising mo apat na sulok pa rin ang bahay natin," Moreno said.
It was through his father that he learned the value of hard work.
"Ito naman ang ikakatangos niyo dito sa San Joaquin. Kahit na mahirap ang tatay ko, hindi nagnakaw, hindi namerhuwisyo ng kapuwa," he said.
Moreno said the same could be said of his mother, who taught him the value of discipline in his early life in the slums.
The 47-year-old presidential aspirant said his family's life story should serve as an inspiration to ordinary folks.
"Yung mga nandirito ngayon, huwag na huwag kayong mawawalan ng pag-asa. Sino ang makakapagsabi na pwedeng maging possible na dito sa lupang kinatitirikan natin at dito sa lupang nakapaligid dito, mayroong pwedeng maging presidente ng bansa," Domagoso said.
If it happened for him, Domagoso said nothing is impossible for those who work to realize their dreams.
Domagoso asked for support from his relatives and the people of San Joaquin in his journey to the presidency, where he is pitted against what he called "mga anak ng pinagpala (privileged children)."
Moreno said the success of his quest, as well as the respective bids of his running mate, Dr. Willie Ong, and senatorial candidates Dr. Carl Balita, Samira Gutoc and Jopet Sison, lies not on gold and billions in wealth as their opponents "allegedly" have, but on the single peso that they can give to their candidacies by texting their close friends and relatives.
"Naniniwala ako sa kapangyarihan ng tao. Kaya nating talunin ang mga ginto nila, mga bilyon nila, sa piso na galing sa tao," Domagoso said.
Domagoso said people can proudly say that, if he is elected, they were the reason for his success because of the peso they invested in him, an investment that they could later on recoup.
Domagoso vowed that their investment would be returned in the form of public housing, public hospitals, schools, jobs, and other basic services through his "Buhay at Kabuhayan" agenda of governance.
"Kapag politiko ang gumastos, may singilin sila. Dahil kayo ang gumastos sa akin, may singilin kayo sa akin, at serbisyo ang singilin niyo sa akin, Moreno said.
SURVEY
The Manila mayor also reacted to the recent Random Access Consultants, Inc. survey in Iloilo City where he ranked fourth behind Vice President Leni Robredo, former senator Ferdinand Marcos Jr., and Senator Emmanuel Pacquiao.
He said that he was more dependent on the "warm bodies" he interacts with at every campaign stop.
"We'll continue to be with people. It's always about the people. I've been through nine elections, and I draw my strength from the people, and I feel it when I talk to warm bodies. So congratulations to them, for now," he said.
He also spoke about his impending courtesy calls with his erstwhile partymate, Iloilo City Mayor Jerry Treñas, and Iloilo Governor Arthur Defensor Jr., who have already come out to support Robredo in the 2022 polls.
"We will give respect to them as elected officials in the normal way. I always recognize elected officials as those chosen by the people," he said.
THE EAGLE OF THE SOUTH
Like national candidates who visited Iloilo in the past few months, Duterte on Tuesday made her appeals to Iloilo mayors, vice mayors, and councilors in separate meetings.
During the Philippine Councilors' League (PCL) convention at the Iloilo Convention Center, Duterte lamented losing to Iloilo City in recent accolades.
The city triumphed as the best bike-friendly city over Davao City at the Mobility Awards and during the National Bike Day awards, as well as digital tourism recognition for the 2021 Dinagyang Festival from the Association of Tourism Officers of the Philippines (ATOP).
"We always look up to Iloilo City as Mayor of Davao City, because we always lose in every recognition and all awards. We are always beaten by Iloilo City. We lost in bike lanes and digital tourism. Iloilo City is always number one," Duterte said.
The Davao mayor also advocated for her running mate, Marcos Jr., saying that as a voter, he would be the best for the country.
"In our lives we have to stand on the back of another leader, and for me that is [Marcos]. I will be voting next year, and I want someone who has good experience in an executive position. His experience as a four-term governor of Ilocos Norte and one-term senator, that is important to me," she said.
She also met with mayors and vice mayors in closed-door meetings afterwards, and an anonymous source told Daily Guardian that she is set to meet Iloilo district representatives today, December 15.