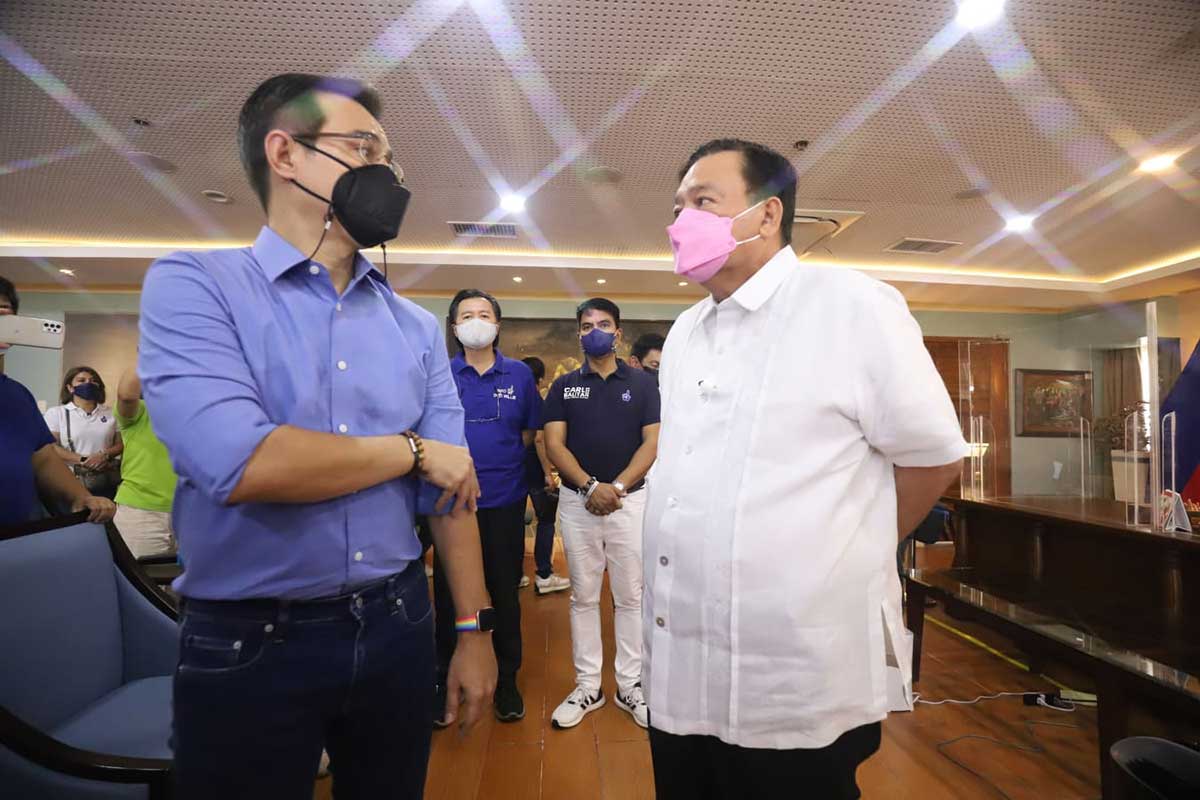 By Jennifer P. Rendon
Manila City Mayor and presidential aspirant Francisco "Isko Moreno" Domagoso vowed to fulfill an infrastructure project that has long been promised by previous administrations – the Iloilo-Guimaras Bridge.
Moreno, standard bearer of Aksyon Demokratiko, made the promise to Iloilo City Mayor Jerry Treňas during their conversation at the City Hall where he and his partymates paid a courtesy call.
The Iloilo-Guimaras Bridge is a portion of the much-ballyhooed Panay-Negros-Guimaras inter-island bridge project of the Department of Public Works and Highways in Western Visayas.
The proposed bridge project will connect the three islands of Panay (Aklan, Antique, Capiz, Iloilo), Guimaras, and Negros (Negros Occidental and Negros Oriental).
"Yung Iloilo-Guimaras bridge mas malapit 'yun. They could have started that sooner. Pero walang galaw. Kung sakaling manalo ka, ituloy mo yon ha. Kukulitin kita," Treňas told Moreno, eliciting a smile from the Manila City mayor.
In return, Moreno quipped: "May awa ang Diyos."
First proposed in 2017, the Panay-Guimaras-Negros (PNG) bridge is set to be the longest in Western Visayas and one of the longest bridges in the country.
The PNG bridge will span 32 kilometers and will be divided into two components: the 13-kilometer Panay-Guimaras link, and the Guimaras-Negros link that spans 19.47 kilometers.
The National Economic and Development Authority (NEDA) confirmed in a previous Senate hearing that construction will likely begin in 2025 and will be completed in 2030.
The DPWH, meanwhile, said that engineering services for the bridge will take place, with financial support from the South Korean government. Funding will come from the Export-Import Bank of Korea.
More than a month ago, reports indicated that the government of Republic of Korea might throw monetary support in the conduct of engineering services for the DPWH's inter-island bridges project.
In February this year, it was reported that the Panay-Guimaras-Negros bridge will not be realized until after Rodrigo Duterte ends his term as president.
Ilonggo senator and Senate Minority Leader Franklin M. Drilon said that the PNG bridges will have to be left to the next administration.
The indicative cost for the Panay-Guimaras segment is P65.7 billion and P123.82 billion for Guimaras-Negros segment.
It was at that time when Drilon announced that the government is looking at the Korean government for possible funding.
Meanwhile, it was in the early part of April 2021 when NEDA announced that PGN bridge underwent review once more after the Chinese government withdrew from the project.
In later part of the said month, Senator Cynthia Villar confirmed that the PGN bridge is "not a priority" of the national government as of this time.
At that time, the lady solon's son, Mark Villar, was DPWH Secretary.
CONNECTIVITY
During their brief conversation, Moreno told Treňas that despite his "acrophobia" or fear of heights, the 47-year-old presidential aspirant made it to the soon-to-be-finished Cebu-Cordova Bridge during his first Cebu Listening Tour in November.
"Alam niyo naman takot ako sa heights. Pero dahil sa gusto kong makita yung bridge, inakyat ko. Such an iconic infrastructure. It was done only in 2 years 9 months under the PPP (Public-Private Partnership)," Moreno said.
Moreno said his Cebu visit made him realize that if prioritized by the national government, islands like Cebu could be connected to Bohol, which could pave the way for easier exchange of goods.
And this could be done by the building of bridges that will serve as tourism circuits and tourism highways as spelled out under the Bilis Kilos 10-Point Agenda for Governance under an Isko Moreno presidency.
Connectivity in the Visayas would require the building of the Tagbilaran-Panglao Link Bridge; Panay Guimaras-Negros Link Bridge; Cebu-Bohol Link Bridge; Cebu-Negros Link Bridge; Bohol-Leyte Link Bridge and Leyte-Surigao Link Bridge.
Moreno previously said connectivity across the region will not only boost its tourism sector but also turn it into an economic center, similar to Metro Manila.
"Kapag iyon nangyare at naging sentro ng susunod na administrasyon na pagdikit-dikitin ang Visayas, hindi na lamang Luzon ang ating economic center. Visayas can be an economic center," he said.
Under an "Isko Moreno Presidency," Public-Private Partnership (PPP) will also continue both national and local.
Moreno has also promised to continue the "Build, Build, Build" program of the current administration, aligned with his plans to build more vertical mass housing, world-class hospitals and modern schools as this construction boom will create more job opportunities.