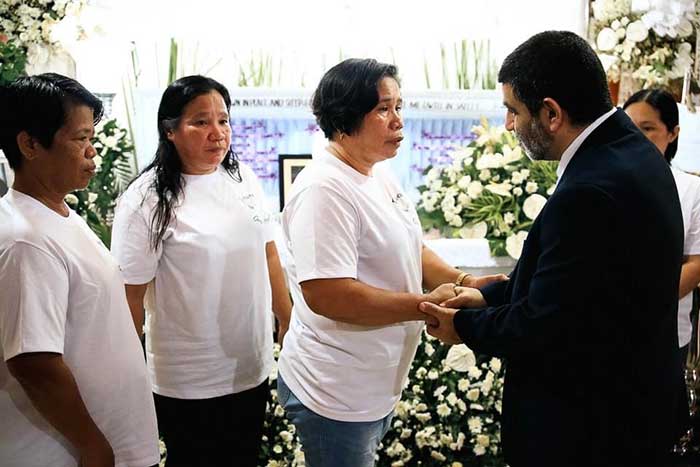 By Glazyl Y. Masculino
BACOLOD City – The family of overseas Filipino worker (OFW) Loreta Alacre, who was killed in the war between Hamas militants and Israel early this month, will be receiving assistance from the Israeli government.
This was the assurance made by Israeli Consul Moti Cohen who flew to the Philippines to personally console the family and visit Alacre's wake in Sitio Camay-an, Barangay Cadiz Viejo, Cadiz City, Negros Occidental yesterday.
Cohen, in a media interview, said that Alacre's family is entitled to many benefits from the Israeli government, such as health, housing, mobility, and education, among others.
Cohen said that the family will also receive a monthly payment and will get the same benefits in full amount just like an Israeli citizen.
"We don't make any difference between an Israeli citizen and an OFW," he added.
Cohen said the victims of hostilities in Israel are assured of assistance based on their law.
He, however, could not tell how long it would take to process the benefits for Alacre's family, but he assured them that they would facilitate it.
Cohen also read a letter from Israeli Ambassador to the Philippines Ilan Fluss conveying a message of sympathy and condolences for the unfortunate passing of Alacre in the Hamas attacks, and an affirmation that the family will receive benefits from the Israel Social Security Institute.
He also paid a courtesy call to Mayor Salvador Escalante Jr., who expressed deep gratitude for the visitation extended by the Israelis as they defied distance by coming over to sit down with the Alacre family.
"Dako ini nga bagay. It's very heartwarming," Escalante said, adding that the presence of Cohen expressed the desire and intention of the Israeli government to pay respects to Alacre and her family.
Alacre, 49, was attending a music festival near the boundary of the Gaza Strip when Hamas militants launched an attack against Israel on October 7.
She was a caregiver based in Tel Aviv for about 15 years and a breadwinner of her family.
Alacre's remains were the first to be transported back to the Philippines of the four Filipino fatalities in the ongoing war.
Meanwhile, Katherine Joy Lamprea, head of the Protective Services Division (PSD), said on Wednesday, that the Department of Social Welfare and Development (DSWD)-6 has extended P50,000 cash assistance to Alacre's family.