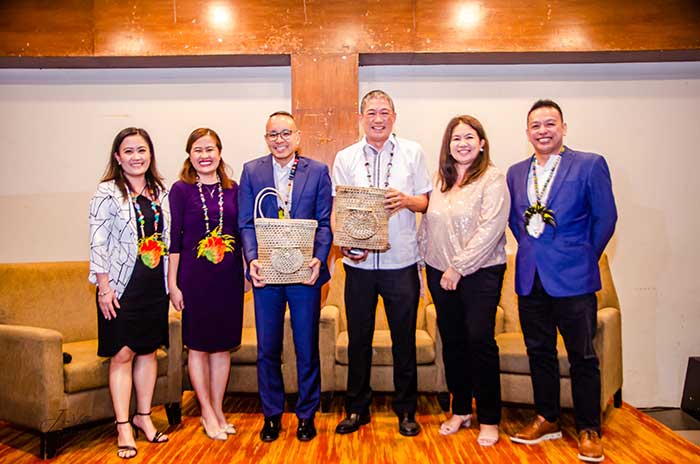 BACOLOD CITY – IT Group, Inc. (ITG), one of the leading IT solutions partners in the ASEAN region, took over the Negros Business Leaders Forum: Navigating the Future of Business Technology event last November 14 at the Chalet, L'Fisher Hotel.
In partnership with Negros' Rotary Council of Presidents, Rotary Club of Bacolod North, and Rotary Club of Sagay-Sinigayan, the business forum ventured into Bacolod's economic growth and how innovation and technology can boost its emerging market.
Almira Navarro, ITG's Chief Marketing Officer, shared that the night was filled with new learnings, new partnerships, and a pool of solid networking among Bacolod's movers and shakers.
"It was a night to remember, seeing leaders of Bacolod venturing together in elevating businesses through technology and being part of co-creating and co-owning innovative solutions with us," she said. "We're excited to grow with Bacolod and eventually, the whole Negros region."
At the heart of the conversation, Rubie Grace Villamor, ITG's Head of Business Management Solutions, talked about the importance of "Compliance Towards Sustainable Business".
Villamor showed the bigger picture of how sustainability creates a ripple effect of positive change on businesses from environmental to social to corporate governance standpoint, bringing Oracle NetSuite, ITG's trusted technological partner, as a tool and strategic solution to run a sustainable and profitable business.
She shared how Oracle Netsuite can help Bacolod's businesses champion sustainability in their operations while maintaining precise records necessary for regulatory compliance like BIR CAS.
Meanwhile, Rommel Bernabe, ITG's Head of IT Management Solutions, delved into digital transformation, highlighting cybersecurity as a critical aspect of modernization that protects organizations' digital assets, intellectual property, and customer data.
A Full Circle Moment 
At the event, Jose Adolfo Cornelio, Jr., ITG's Vice President and Managing Director for PH, sent his heartfelt message to all the attendees.
"It's a full circle moment for us, to be honest. IT Group, Inc. is part of the Hexagon Group of Companies, where our founder, Don Simplicio Gamboa Sr., had his share of humble beginnings through his business, Bacolod Victory Hardware," he said. "Now we are here with you through ITG, and it's good to be back."
Cornelio honored the success of the event to the President of the Council of Presidents, Patrick Mabag; the President of Southland Colleges of Kabankalan and the District Secretary of Rotary International District 3850, Juan Antonio Villaluz; the President of Rural Bank of Sagay, Alex Yupangco; the President of Rotary Club of Sagay-Sinigayan, Abundio Tarrazona II; the President of the Rotary Club of Bacolod North, Concon Pareño.
"I'm ending this by saying Western Visayas has the highest growth rates in the Philippines and I'm sure, Bacolod is one of the key drivers of this growth," he ended.
Let's venture together on your DX journey here: https://itgroupinc.asia/