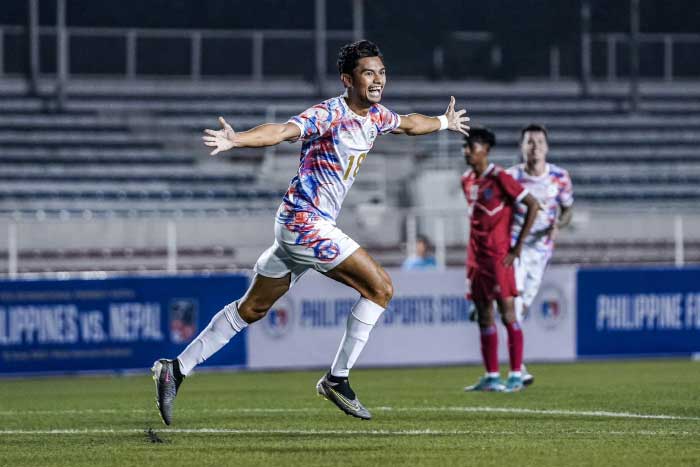 By Leobert Julian A. de la Peña
Jarvey Gayoso was in the right place and at the right time after scoring the lone goal of the international friendly match to steer the Philippine Azkals to a 1-0 victory over Nepal last June 15, 2023.
Three minutes after the scoreless first half, the Azkals banked on Gayoso's conversion generated from a corner kick from the left side of the pitch.
After the scramble inside the penalty area of Nepal when the Azkals failed to take control of the ball, Gayoso's quick reflexes paid off dividends as he tapped the ball while laying down the pitch to give the PHL a 1-0 lead.
This was Gayoso's first international goal for the Azkals in three years who only played the match as a substitute.
Gayoso came in seconds before the first half ended when he replaced the hobbled Patrick Reichelt who could no longer continue with the match.
The Azkals immediately went off to the races in the first 45 minutes of the match as their veteran strikers overwhelmed Nepal's defense when they quickly racked up their goal attempts to four.
However, Nepal countered with tight adjustments in the midfield which slowed down the PHL attack minutes before the halftime whistle sounded.
The Azkals then opened the next 45 minutes with blazing offensive schemes and added more goal attempts after the Gayoso conversion.
Despite the close win in front of their Filipino fans, the returning German head coach Hans Michael Weiss is still optimistic about the results.
"I'm very happy first of all to come back to the Philippines. Secondly, we won. At the end of the day, it's a results sport and that's about it. I think against Chinese Taipei on the 19th, we'll be better," said Weiss after the win.