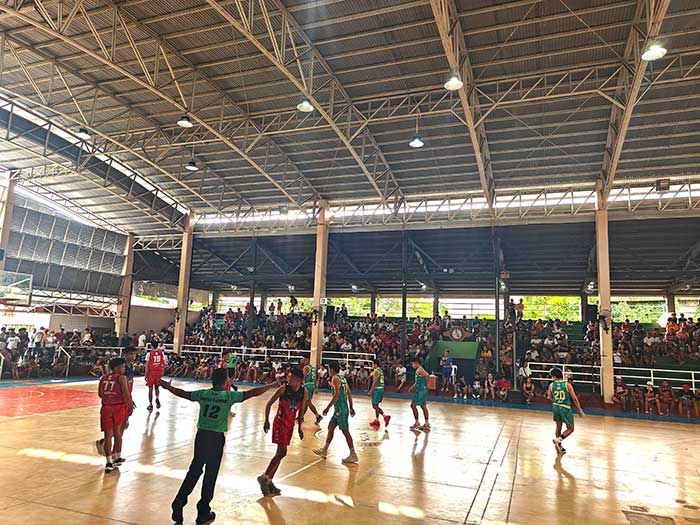 By Leobert Julian A. de la Peña
When it comes to the local hoops level, the JB Amateur Basketball League (JB ABL) is the real deal.
After taking a three-month break from local basketball organizing, commissioner Jayphet Balbacal and the rest of the JB ABL committee returned with a bang after a successful opening ceremony of the Battle of the Seven Districts Conference.
All the seven districts geared up and attended the opening tip off last September 17, 2023, held at the Western Institute of Technology (WIT) extension campus basketball gym.
Jaro, Lapuz, La Paz, Molo, Mandurriao, Arevalo, and City Proper supporters flocked to the WIT basketball gym to support the young and uprising stars' battle for hoops supremacy.
After the team presentations, the tournament proper was formally opened after Daily Guardian general manager Lawrence Clark Fernandez headed the official declaration of the games followed by the draw lots to determine the playing schedule.
The first game that treated the hundreds of Ilonggos who came to WIT was the fiery clash between the Jaro Titans and the City Proper Stalwarts.
After a nip-and-tuck first half, Jaro was able to maintain their pace and put up a brilliant defensive performance to take down City Proper, 81-65.
The Stalwarts even took a slim lead in the second quarter but after Jaro bullied their way inside the shaded lane, the Titans then snatched away their momentum and continued to play as a unit in the last two quarters.
Kevin Barranco, a current star for the CPU Golden Lions, bagged the ODM Sportswear Best Player of the Game honors after leading team Jaro with 16 big points.
Meanwhile, in the last game of the opening ceremony, the Lapuz Batang Pier steamrolled their way against the Mandurriao Warriors, 98-81.
Despite the hot-shooting of Mandurriao's Paul Guerrero, Lapuz was able to go toe-to-toe offensively as their balanced scoring hindered the Warriors' comeback attempt in the second half.
Offensive juggernaut Tyrome Borja proved to be too much for the Warriors as his deep scoring bag torched Mandurriao which helped the Batang Pier balloon its lead to double digits.
Borja was then awarded the ODM Sportswear Best Player of the Game award after dropping 32 markers against Mandurriao.
"Salamat, we didn't expect nga pun-on nyo ang WIT my fellow Ilonggos. Kanam sa feeling nga bisan small time lang ta, you took the time to appreciate ang gn buhat namon nga liga para sa inyo. Damo pa kita games, enjoya nyo lang. Kabay pa wala gd may ma injury and tani asta matapos smooth ang aton liga," said commissioner Balbacal in an exclusive interview with the Daily Guardian.